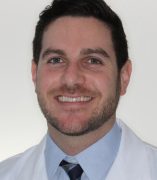 Dale Benjamin, DMD, MS
Clinical Assistant Professor of Orthodontics
Orthodontics
Contact
Address:
College of Dentistry 801 S. Paulina Street, IL 60612
Email:
About
Dr. Benjamin is a graduate of the University of Florida (Bachelor of Science, Microbiology and Cell Science, 2005). He went on to pursue dentistry at the University of Florida College of Dentistry (DMD, 2009) where he received an award for Clinical Excellence in Orthodontics. Dr. Benjamin completed his orthodontic training at University of Illinois at Chicago department of Orthodontics in 2012 (MS Oral Sciences, Certificate in Orthodontics).  He subsequently achieved board certification from the American Board of Orthodontics (Diplomate, 2013).
Dr. Benjamin is a third generation dentist and has a strong appreciation for multidisciplinary dental treatment. He is engaged in private clinical practice and shares his knowledge and expertise with the orthodontic residents at UIC  as a part-time clinical instructor.
Scholarly interests
Photography and 3D imaging, emerging technology, biomechanics, clinical efficiency, maxillary expansion and long-term orthodontic stability, practice management, multidisciplinary treatment, surgical orthodontics.