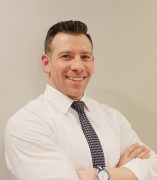 Anthony LaPorte, DDS '12
Director, UIC Dental Alumni Board of Directors
Contact
Address:
Flex Dental 290 Springfield Dr., IL 60108
Office Phone:
About
Dr. Anthony LaPorte, '12 owns Flex Dental in Bloomingdale, IL.  Dr. Anthony LaPorte is a second generation American Italian, born and raised in Itasca, IL. Since graduating, Dr. LaPorte worked as an associate in a private practice in Palatine, IL, while continuing his education with courses in CEREC, Oral Surgery, Orthodontics/Invisalign, Endodontics (Root Canals), Botox and Dermal Fillers.
From a young age, he always knew he wanted to be some kind of doctor, but it wasn't until he was playing mini golf with a group of friends and somehow managed to knock out a front tooth of one friend with an errant shot that he decided to become a dentist.
Dr. LaPorte attended Lake Park High School in Roselle and completed his undergraduate degree in Biological Science and Chemistry at the University of Illinois at Chicago in 2008. He then received his Doctorates of Dental Surgery at the University of Illinois at Chicago in 2012. In his free time, Dr. LaPorte enjoys playing sports, including hockey, martial arts, and weightlifting.