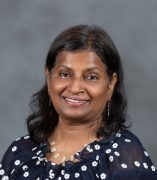 Anne George, PhD
Brodie Tooth Development Genetics Research Professor, UIC Distinguished Professor
Professor of Oral Biology
Oral Biology
Contact
Address:
UIC College of Dentistry 801 S. Paulina Street, IL 60612
Email:
About
Dr. Anne George is the Brodie Tooth Development Genetics Research Professor, UIC Distinguished Professor, and Professor of Oral Biology.  She leads a team of research specialists and mentors students in the Brodie Tooth Development Genetics & Regenerative Medicine Research Laboratory at the UIC College of Dentistry.
Anne George's research could one day lead to a new way of filling oral caries. George is studying how proteins can regenerate dentin, a calcified tissue of the body that, along with enamel, cementum and pulp, is one of the four major components of teeth. She has been instrumental in cloning the dentin matrix protein genes (DMPs) from the mineralized dentin matrix of animal models.
Selected Publications
Hong L, Colpan A, Peptan IA, Daw J, George A, Evans CA. 2007. 17-Beta estradiol enhances osteogenic and adipogenic differentiation of human adipose-derived stromal cells. Tissue Eng 13(6):1197-203.
Hao J, Narayanan K, Muni T, Ramachandran A, George A. 2007. Dentin matrix protein 4, a novel secretory calcium-binding protein that modulates odontoblast differentiation. J Biol Chem 282(21):15357-65.
Huang J, Wong C, George A, Kaplan DL. 2007. The effect of genetically engineered spider silk-dentin matrix protein 1 chimeric protein on hydroxyapatite nucleation. Biomaterials 28(14):2358-67.
Balducci L, Ramachandran A, Hao J, Narayanan K, Evans C, George A. 2007. Biological markers for evaluation of root resorption. Arch Oral Biol 52(3):203-8.
Gajjeraman S, Narayanan K, Hao J, Qin C, George A. 2007. Matrix macromolecules in hard tissues control the nucleation and hierarchical assembly of hydroxyapatite. J Biol Chem 282(2):1193-204.
Education
University of Saurashtra, India, MSc, Organic Chemistry, 1978
University of Madras, India, PhD, Physical Chemistry, 1983
Northwestern University, Postdoctoral Research Fellow, 1988-1993
Research Currently in Progress
The basic problem we are attempting to solve is that of determining the molecular mechanisms involved in the ordered mineralization of dentin. The process of mineral deposition is not a random process, but it is a well ordered phenomena, in which there are highly specific interactions between the macromolecular components of the matrix. Our studies have been directed to dentin mineralization because of its uniformity and metabolic simplicity relative to bone. Our current working hypothesis proposed for mineralization is a multistep process. First the tissue forming cells, i.e. the odontoblasts, secrete a structural matrix that defines the shape of the tissue and provides the space for the ordered, oriented nucleation of the mineral crystals.
RELATED VIDEO: Tissue Regeneration Using Nature's Way
A Team Mentorship Approach To  Tissue Engineering
Dr. George leads a multidisciplinary team of specialists and mentors DMD/PhD students. Her NIH funded laboratory focuses on studies of protein-based biomaterials with the goal of  discovering new and better ways to repair and regenerate bone and teeth. "Understanding nature's design principles and ultimately mimicking the process may provide new approaches to synthesize biomaterials with unique properties for various applications."
Read more