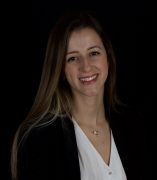 Andrea Reale, DDS, MS
Clinical Assistant Professor
Restorative Dentistry
About
Awards & Recognitions
2016  "Rackham Block Grant Award" University of Michigan- Horace Rackham School of Graduate Studies.
Clinical activities & specialties
Dr. Reale is a graduate of University of Michigan Graduate School of Dentistry. Prior to that, she practiced in Venezuela and gained restorative clinical experience there. At UIC, she is involved in pre-patient care courses such as principles in restorative dentistry, fixed prosthodontics as well as patient care in the Digital Dentistry Clinic. In addition, she will maintain her practice in the Faculty Dental Practice at UIC. Her experience and areas of interest include restorative and esthetic dental care.
Education
Santa Maria University- Caracas, Venezuela. DDS
University of Michigan, Master of Science in Restorative Dentistry.
Research Currently in Progress
Dr. Reale's field of research interest is in dental ceramics. Her masters thesis project titled "Relationship of Flexural Strength and Translucency of Different Ceramics" increased her fascination in the field. She would like to expand her research career in that area and several more.