Urban Health Program is Changing the Future of Oral Health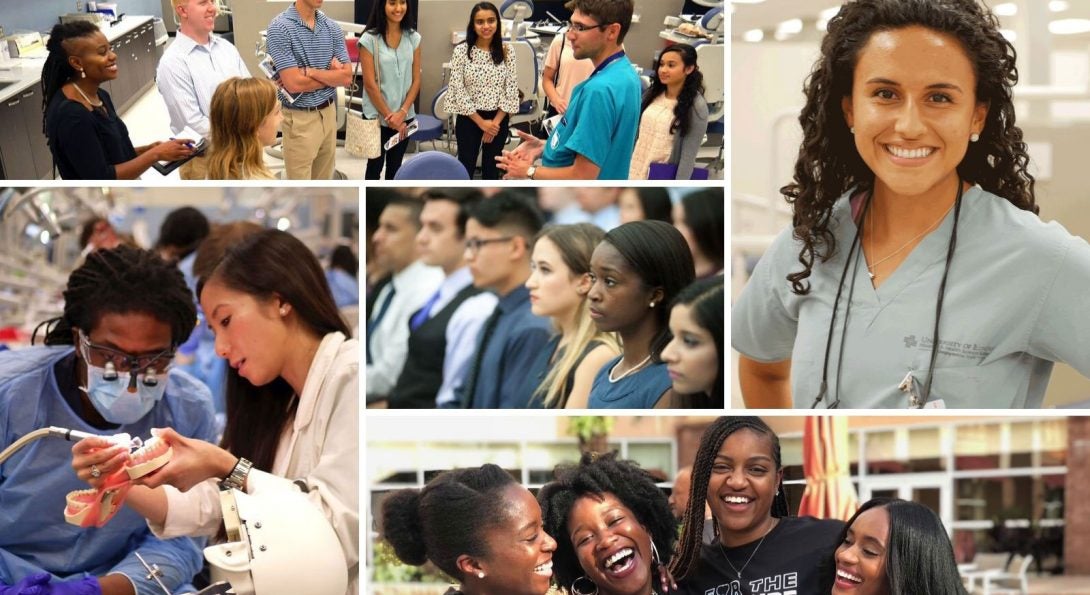 "Family is something that is very important to me, as well as work life balance," said Angel Frazier, a fourth year dental student at UIC. I chose dentistry because of this, and when I shadowed my uncle (also a dentist), a lightbulb just went off: I knew right then I wanted to be a dentist."
Frazier, grew up in the south side Chicago neighborhood of Roseland, and was the first of her siblings to attend college. After receiving her degree in biomedical science, she worked for three years before being accepted into dental school.
In October 2019, Frazier received a Professional Student Dr. Martin Luther King Scholarship Award from the UIC Office of the Vice Chancellor for Student Affairs.
"After graduation, I plan to work in areas where there might be a shortage of dentists. I plan to continue to volunteer to help those without access to dental care," said Frazier.
Frazier is a part of the Urban Health Program (UHP) at UIC, which provides programming, resources, and support for pre-health and health professional students to address health disparities in minority populations and improve healthcare in underserved urban areas.
In the UHP, "I was provided mentors and support, so I feel I have an obligation to give back to this program," Frazier said. She now serves as a UHP mentor. "I spend my summers volunteering to help students with research projects and prepping for their dental entrance exams," Frazier said.
Diversity in the Dental Workforce
While the United States has become more diverse over the years, the profession of dentistry has been slow to reflect demographic population changes.
According to ADA Health Policy Institute dental workforce data, ethnic and racial diversity among dentists doesn't match the US population. As of 2015, White and Asian dentists were proportionally more represented in the profession, while Hispanic and black dentists, as well as dentists who identify themselves as another race or ethnicity, were proportionally less represented.
According to the ADA study, only 4 out of a 100 dentists are Black, only a third of the nation's overall Black population (12 percent). And, just 5 out of 100 dentists (5 percent) are Hispanic, compared to 18 percent of the overall population.
A Harder Path Into the Profession
For many minorities, there are barriers to becoming a dental professional. Some of these barriers include the cost of the program, the cost of living while in the program and the location of the dental school. GPA requirements can also be a barrier for these applicants.
Some students in underserved communities also say they have a lack of self-confidence to apply. A big reason, they say, is the lack of role models in their field that are their same race or ethnicity.
First generation students — those who are the first in their family to attend college — often have a different experience than students who have a family legacy of attending higher education. These students may struggle to connect with other students, even though networking is often critical for medical programs such as dentistry.
"Dental school is challenging enough as it is, said Moses Rasberry, a first-generation, second-year UIC dental student from Chicago's west side.  "The hurdles that I had to jump through to get here, I'm proud of it. I was able to get here just like everyone else."
"As a first generation college student, I didn't really have anyone to go to for help in preparing for dental school," said Marisol Garcia, lifelong Chicago resident and second year dental student at UIC. "Seeing other people in UHP who have similar backgrounds to mine gave me the confidence I needed. It's nice to walk hand-in-hand with someone who is doing it the same way."
The Importance of Cultural Competency
Diversity in the dental profession isn't only about race and ethnicity, it's also about cultural competency — the ability to understand the needs and concerns of those with different backgrounds — lends itself to the goals of the college as well. 
Cultural Competency: A person's ability to understand and interact with people from cultures and backgrounds other than their own.
The idea of cultural competency is crucial when thinking about the makeup of a dental school class. It is important to have a diverse group of students in each class to promote cultural competency.
"There's a mindset component, too, and we are fortunate to have a strong applicant pool," he said. "The students who can contribute while they are here and after they graduate provide the experience and exposure to thrive in a diverse workforce."
Diversity at UIC College of Dentistry
UIC boasts one of the most diverse student populations among colleges and universities in the nation, especially among public research universities. UIC is a federally designated minority serving institution, which covers racial, ethnic, and class backgrounds along with gender identities and sexual orientations.
The College of Dentistry prides itself on inclusion, with diversity at the core of its set of values. Academic, care and research programs are all dedicated to building a culture of excellence that is grounded in principles of equity and social justice.
"Our country (and our state) are becoming more diverse every day," said Darryl Pendleton, Associate Dean for Student and Diversity Affairs and the Director of the Urban Health Program. "Our college is committed to training and producing healthcare professionals to serve our constituents. Patients do better when they have a comfort level with their providers who represent communities that are underserved."
Pendleton said the increase in opportunity is driving the diversity within the dental industry. "At one time, it was out of reach for so many," he said. "There's increasing awareness now, and making sure youth know that being a dentist is an option for them as a career."
UIC's Urban Health Program
The Urban Health Program (UHP) at UIC aims to increase opportunities for African American/Black, Latinx, and American Indian students  with interest in the health sciences. The College of Dentistry Urban Health Program is focused on providing programming, resources and support for traditionally underrepresented dental students, which gives them early exposure to the dental professions. The program also provides academic enrichment opportunities, and avenues to serve as leaders and mentors to others students.
UHP actively recruits African American, Latino, and Native American undergraduate students throughout Illinois, and encourages them to apply to dental school. The program also conducts research related to underrepresented student experiences and outcomes, particularly for those students in the pipeline at the University of Illinois campuses.
"The College of Dentistry has been part of the UIC Urban Health Program since its inception because we're committed to providing a diverse dental workforce for the state of IL," said Pendleton.  "We are a minority serving institution and we have a high number of first-generation students. We also accept DACA and undocumented students."
Many of the student in UIC's College of Dentistry's Urban Health Program are first generation students that were able to overcome many typical challenges using resources from the program.
Urban Health Program students are:
Black, Latino, or Native American students currently enrolled in a degree program at UIC that leads to a healthcare or medical research career
Graduate students, or aspiring undergraduate students, from traditionally underrepresented groups who have an interest in pursuing a healthcare career,
Elementary and High School students who participate in UHP pipeline activities or the UIC Early Outreach Program or any program that helps students prepare for college and exposes them to career opportunities in healthcare
Students who are concerned about healthcare disparities that plague urban, poor, predominantly minority populated communities
Outstanding students and leaders with a commitment to service and to social justice.
The program represents 40 years of partnerships and collaborations with program alumni, urban communities and institutional partners in the greater Chicago area and across the state of Illinois. Since its inception in 1978, the program has recruited, retained and graduated more than 7,000 UIC-UHP alumni now working in health-related fields.
UHP provides a number of avenues for early exposure and academic enrichment opportunities to the dental professions for students from traditionally underrepresented groups. One example is the UHP Early Outreach Program serves as an academic pipeline to college for grammar and high school students.
Students can also opt for the post-baccalaureate admissions program that academically prepares incoming candidates for the rigors of graduate health curriculums. "The post-bacc was the best decision I made before dental school, because I wasn't really ready [academically]," said Frazier. My first year in the dental program would have been a lot harder without it. It taught me how to study better, and prepared me for the rigors of dental school."
"I am inspired by seeing how much the students have overcome, whether it be a lack of guidance, or financial obstacles," said Braulia Espinosa, Director of Admissions. "They have worked twice as hard to achieve their dream of going to dental school, and we're glad to be here to guide and support them through their journey." As part of the UIC College of Dentistry admissions team, Espinosa advises prospective students who are a good fit for UHP. She introduces them to pre-matriculation programs such as the annual UHP open house, Summer Dental Admissions Test review program, UHP academic merit scholarship program, Summer Pre-Matriculation program and the 1-year long Post-Baccalaureate program.
Second-year UIC dental student, Saul Ramirez, took advantage of the Summer Pre-Matriculation Program, a 10 week review of biology and other prep courses prior to entering the program, that helped him get ready for his first year. Ramirez grew up in the Little Village neighborhood of Chicago and then attended community college before transferring to UIC. As a child, he saw a Hispanic dentist for the first time and was also inspired by his brother – a practicing dentist now – to become a dentist himself.  
"There were challenges in just knowing where to start and figuring out who to ask and what questions to ask," said Ramirez. "I took advantage of the resources and the pre-dental events to meet other students and learn from them."
The UHP hosts events that bring together current and former students that have had similar paths growing up and getting into college. The program hosts a pre-dental event where current UHP students show prospective undergrad and high school under-represented students what it is like to be in dental school. They work one-on-one with the students to help them improve important dental school skills including hand-skills and even help on writing application personal statements.
Students Take Their Knowledge Back to the Community  
Many students that have participated in the UHP get the chance to serve their community's health needs, both during dental school and after graduation when they begin practicing. Some may even return to the same neighborhoods they grew up in.
"I like the idea of being able to help people that live in the neighborhood," Ramirez said. "It feels very rewarding."
 "The west side of Chicago is still home for me, and it's important for me to be able to give back, said Raspberry. I plan to give back both as a clinician and as an educator in my community. I want to help others like myself move forward."
For future dental students who have had similar paths, Ramirez offers this advice: "never be afraid to ask questions. Get involved, join dental clubs. Just put yourself out there, and learn as much as you can, because there are resources out there that can help you."
For more information about the UIC College of Dentistry's Urban Help Program, visit our website.