UIC Orthodontic Resident Won the William Proffit Research Award 2022 during the AAO Annual Session in Miami Beach in May 2022
Congratulations to Dr. Vivian Snider for Winning the William Proffit Research Award 2022 Heading link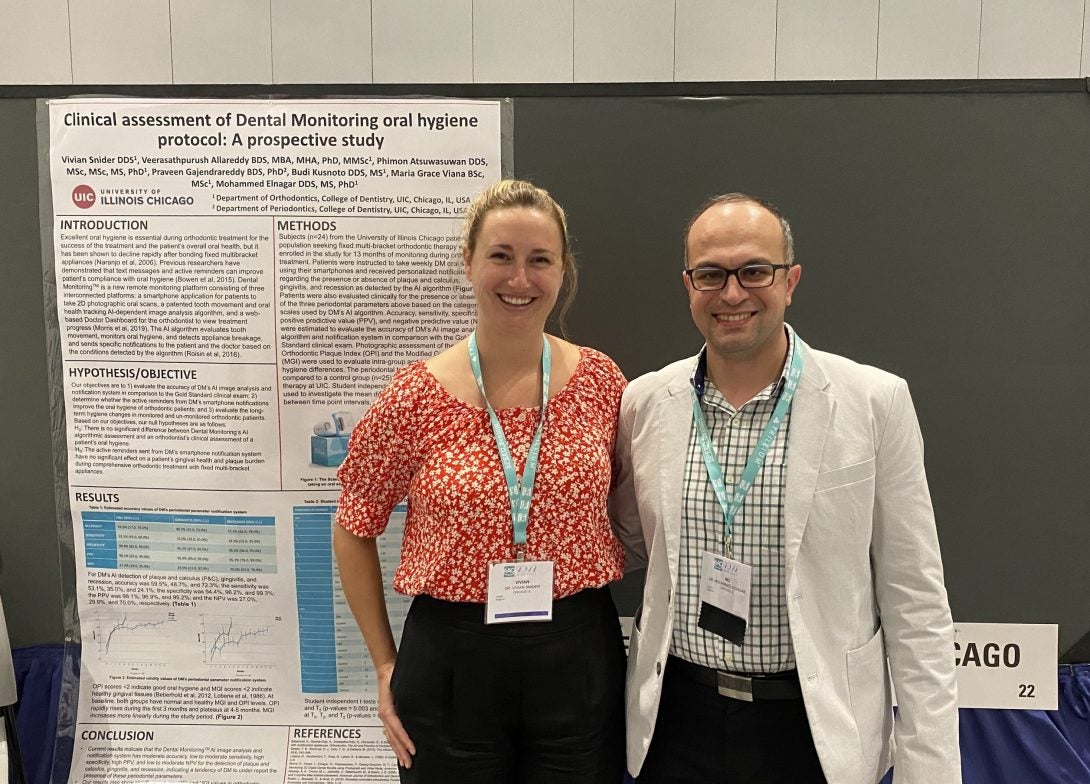 Dr. Vivian Snider (2022 UIC COD Orthodontics graduate) won first place  for the William R. Proffit Resident Scholar Award from the American Association of Orthodontists (AAO) in Miami Beach, FL in May 2022.
A national/international competition was organized during the AAO 2022 annual session, and residents from more than 24 Orthodontic Programs presented their research.
Dr. Snider won first place for her research project titled "Clinical Assessment of Dental Monitoring oral hygiene protocol; A prospective study". Her project evaluated the oral hygiene assessment function of a new artificial intelligence (AI)-based remote monitoring technology called Dental MonitoringTM (DM).
Dr. Snider's mentor is Dr. Mohammed Elnagar and her Co-Investigators are Dr. Veerasathpurush Allareddy, Dr. Phimon Atsawasuwan, Dr. Praveen Gajendrareddy, Dr. Budi Kusnoto and Ms. Grace Viana.
Dr. Vivian Snider is a third year orthodontic resident of the UIC Orthodontic Postgraduate Program. She attended Dartmouth College where she played Division 1 volleyball and earned her Bachelor of Arts in Human Biology. Dr. Snider then moved to New York City to attend Columbia University College of Dentistry and received her DDS degree in 2019.
Modified on June 01, 2022