UIC Orthodontic Faculty Presented Webinar titled "Cracking the Code for Pursuing a Career in Dentistry in the United States"
Webinar Presented by Drs. Maysaa Oubaidin, Min Kyeong Lee and Sath Allareddy Heading link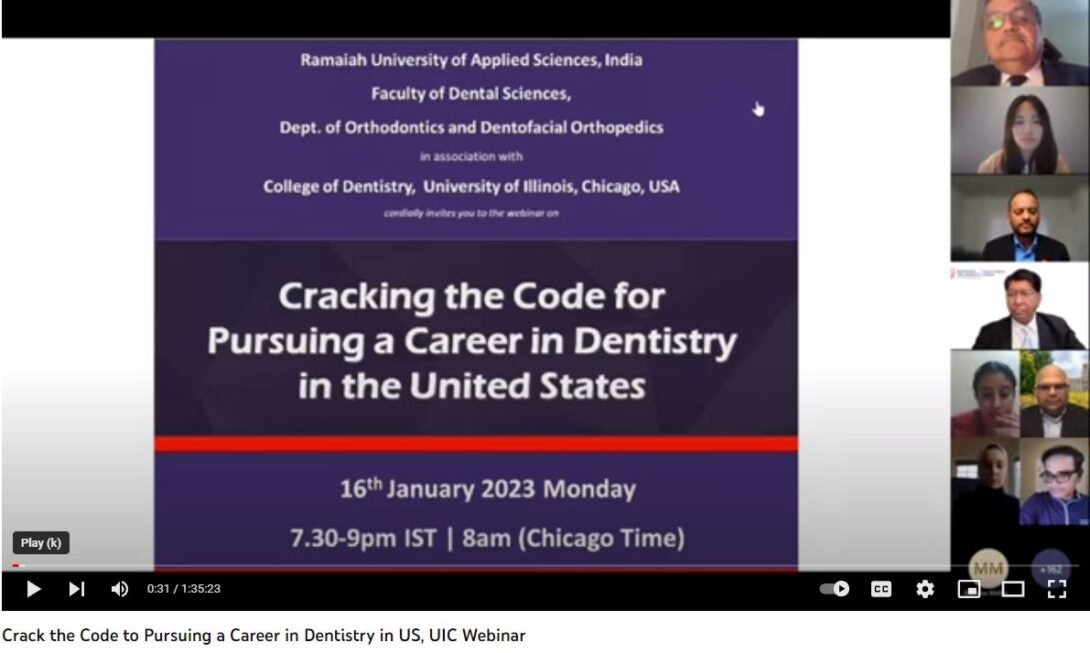 Drs. Maysaa Oubaidin, Min Kyeong Lee and Sath Allareddy gave a webinar titled "Cracking the Code for Pursuing a Career in Dentistry in the United States" on 01/16/2023. The webinar was organized by the Department of Orthodontics and Dentofacial Orthopedics pf the Ramaiah University of Applied Sciences Faculty of Dental Sciences in association with University of Illinois Chicago – Department of Orthodontics.
The webinar can be accessed at – https://youtu.be/AKCAyjeaZ8g.
Drs. Oubaidin, Lee and Allareddy provided an overview of their journey in pursuing an academic career in the United States and participated in a panel discussion. The webinar is part of the International Lecture Series given by the UIC Department of Orthodontics in collaboration with international dental schools. Over 200 attendees participated in this webinar.
Modified on January 19, 2023