UIC College of Dentistry Showcasing the Inaugural Graber Seminar Series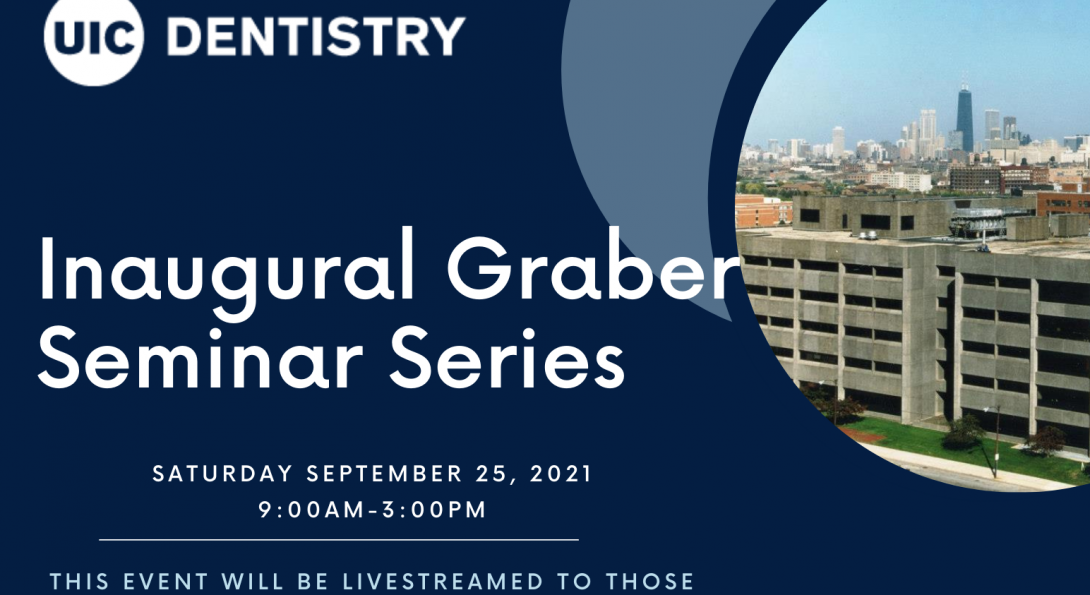 UIC Department of Orthodontics warmly welcomes you to the inaugural "Thomas M. Graber Seminar Series". This year we have brought together outstanding Orthodontic Educators and Clinician Scientists to share exciting developments and advances in the orthodontics field. Dr. Greg Huang will present about the National Anterior Open Bite study results and clear aligner outcomes. Dr. Sylvia Frazier-Bowers will talk about Diagnosis and Management of Tooth Eruption Disorders. Dr. Mohammed H. Elnagar will share latest developments in Applications of Artificial Intelligence in Orthodontics Clinical Practice and Research. Dr. Jeffrey Fellows will present findings from the National Dental PBRN's COVID-19 Research Registry Study.
When:
Saturday, September 25, 2021 9:00AM to 3:00PM.
Register here by September 23rd at 9:00AM. The event will be livestreamed to guests outside of the UIC College of Dentistry. Zoom link to follow.
Agenda:
Dr. Clark Stanford (Opening Remarks – 9.00 am to 9.20 am)
Dr. Budi Kusnoto (Honoring the Legacy of Dr. Thomas Graber – 9.30 am to 9.45 am)
Dr. Greg Huang (Key Note Talk)
Results from the National Adult Anterior Openbite Study (9.50 am to 10.40 am)
Break (10.40 am to 11 am)
Aligners: State of the Evidence (11 am to 11.40 am)
Dr. Sylvia Frazier-Bowers (Truth or Consequences - Diagnosis and Management of Tooth Eruption Disorders: 11.45 am to 12.30 pm)
Lunch (12.30 pm to 1.15 pm)
Dr. Jeffrey Fellows (Results from the National Dental PBRN's COVID-19 Research Registry Study – 1.15 pm to 1.35 pm)
Dr. Mohammed Elnagar (Applications of Artificial Intelligence in Orthodontics Clinical Practice and Research – 1.40 pm to 2.10 pm)
Dr. Veerasathpurush Allareddy (Department Overview – 2.10 to 2.25 pm)
Honoring Residents (Department of Orthodontics Scholarships/Awards and photo session – 2.30 pm to 3.00 pm)
Dr. Veerasathpurush Allareddy (Final Remarks)
Modified on November 09, 2021