Three Professors Publish Women in Prosthodontics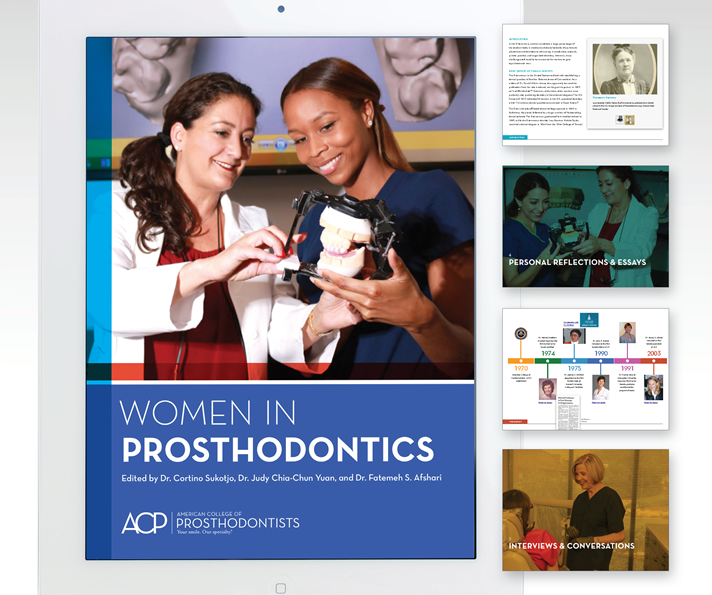 Drs. Cortino Sukotjo, Associate Professor; Judy Chia-Chun Yuan, Assistant Professor; and Fatemeh S. Afshari, Clinical Associate Professor, Restorative Dentistry, University of Illinois at Chicago College of Dentistry, have edited an ebook, Women in Prosthodontics.
The book presents a history of women in the field told through first-hand accounts, including the presidents of specialty organizations, administrators and department heads from dental schools, and others. The women revisit the challenges of their early years, when they often were the only women in their residency or training program. They also reflect on their triumphs and share wisdom about the keys to their success.
It also includes stories of women who are currently in the field.
A total of 21 women's reflections are included.
"Reading these women's stories has been inspiring," said Dr. Susan E. Brackett, President of the American College of Prosthodontists. "It is clear to me that we have made great strides in accepting and encouraging women to become prosthodontists."
Drs. Afshari, Sukotjo, and Yuan issued the following statement: "The idea of documenting the history and journey of women prosthodontists was inspired by a discussion with Dr. Jane Brewer at the Academy of Prosthodontics social outing. She acknowledged how the environment is gradually changing, and that female advancement in the field is becoming the new normal.
"We realized that her inspiring story and others like it should be shared with the growing number of enthusiastic young women in the prosthodontics field. We like to celebrate these amazing women's achievement and accomplishment. We would like to thank the ACP, particularly ACP leaders Dr. Lily Garcia, and Dr. Susan Brackett for enthusiastically supporting this project. We thank Alethea Gerding for her assistance in publishing the e-book," they concluded.
The book was published by the American College of Prosthodontists through the support of Dentsply Sirona and Straumann, and was officially launched on Oct. 7 at the ACP meeting in San Diego, CA. It is available free for download on iPad, iPhone, iMac, and Amazon Kindle. Log on to https://itunes.apple.com/us/book/women-in-prosthodontics/id1160128337?ls=1&mt=11.