Students Provide Free Oral Cancer Exams at Vive tu Vida Chicago! Health Fair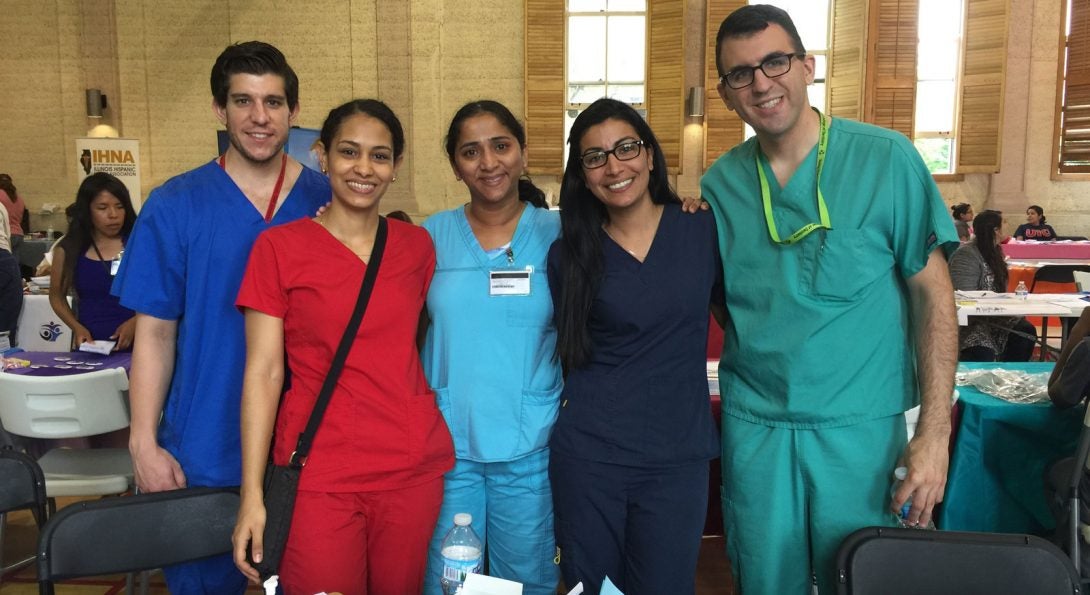 These dental students provided over 50 free oral cancer exams at Vive tu Vida (Get Up, Get Moving) Chicago! Health Fair held in McKinley Park this past Saturday. They were accompanied by Dr. Beth Miloro and supplies were donated by the Department of  Oral Medicine and Diagnostic Sciences.
Pictured L to R: Jean Paul Taveros Santos, Annelise Perez Duran, Sapna Matthews, Haivy Castillo, and Daniel Pagel
More about ¡Vive tu vida! Get Up! Get Moving!
¡Vive tu vida! Get Up! Get Moving! is the nation's premier annual Hispanic family physical activity and healthy lifestyle event. 
About the Chicago Hispanic Health Coalition (CHHC): 
The Chicago Hispanic Health Coalition was established in June 1991 as a multi- disciplinary membership organization to address the need for health promotion and disease prevention among Chicago's Hispanic community. The Coalition's mission is to promote healthy behavior and prevent chronic disease. CHHC advances health education and disease prevention in the Hispanic community. CHHC dedicates all its efforts to improve the quality of life for Hispanics by promoting healthy behaviors and environments.  Through coalition building and direct action, it seeks to empower the Hispanic community by providing a centralized forum for capacity building, coordination, policy and networking among health and human service providers and consumers.