Student Research Experiences: 2018 Clinic and Research Day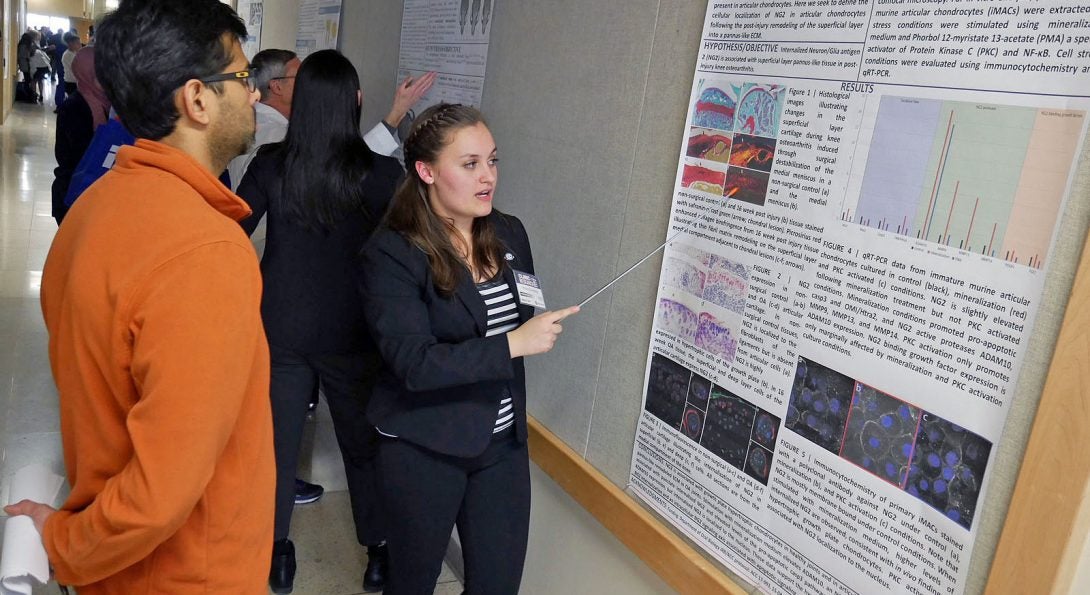 At this year's 31st annual Clinic & Research Day, current and prospective students, as well as post-grad residents presented over 100 posters covering a variety of oral sciences research topics, including oral biology, regenerative science, clinical translation, and community-based studies. The event was a great opportunity for students to learn, network and present their hard work to advance knowledge in the oral sciences.
Visitors from other colleges and fellow classmates and faculty spent a half day as dozens of students transformed the fourth and fifth floors of the College of Dentistry building into the annual research event.
Research occurs at the College from the "bench to the chairside" (and the reverse)—to accelerate diagnostic and interventional therapies in not just dentistry, but other medical fields. Clinic and Research Day allows the postgraduates, students, and their faculty mentors to share their research with the dental and medical communities. 
 "We have an amazing group of very talented researchers here,  covering a wide range of interests in the basic, behavioral, clinical, and applied sciences," said Dr. Lyndon Cooper, Associate Dean for Research at the UIC College of Dentistry.  "The quality of the clinical, translational research and basic research posters was inspiring both in terms of the scope of interests and the excellent quality of research and scholarship presented."
Predoctoral, postgraduate, graduate students, postdoctoral fellows, and their faculty mentors will be competing for awards in a number of categories.
Dental Scientists Training Across Disciplines
Several of the students who presented are working on a dual degree, the DMD/PhD as part of the College's Multidisciplinary Oral Science Training (MOST) Program . The MOST program offers several tracks for both undergraduate and graduate / post-graduate researchers, including a PhD program and a combined DMD/PhD program, and a postdoctoral fellowship.  MOST fellows gain valuable knowledge through independent multidisciplinary research projects with close faculty mentorship combined with an innovative clinical training curriculum.
The program allows students flexibility in designing independent tracks that match their research interests.  Having this program at UIC -- a Carnegie level-1 public research university, and within the College of Dentistry -- gives students unique access to patients and state-of-the-art resources. There is also the opportunity to find mentors and collaborators, and even take classes across the entire university.
"Graduates from the MOST program will be highly qualified to pursue either clinical, scientific or academic career paths. With the strong foundation they receive in both clinical practice and fundamental science, they could choose to become a practitioner, an academic professional, or even become an advisor to industry or government," added Dr. Cooper.
Oral science research is multidisciplinary because it covers many different areas of biomedicine.  The oral cavity can be thought of as a gateway to many other organ systems in the rest of the body, so research at the College of Dentistry involves a lot more than just teeth. The core research areas in the MOST program are in the biomedical sciences to advance craniofacial-oral-dental research including craniofacial biology, tissue regeneration, tissue engineering, biomaterials, oral cancer, microbiology, immunology, and translational research.
Research at UIC College of Dentistry
Changing the future of oral health through research
Anchored within a Carnegie level-1 public research university, UIC College of Dentistry is the only research-oriented dental school in Illinois, and is in the top 10 for NIH funding nationally. Our investigators lead cutting-edge research to discover and translate new knowledge at the boundaries of science, transforming oral health care practice, social systems and related technologies for the benefit of individuals, families and communities.
How to Get Involved In Research
Are you a prospective dental student looking to get involved in research?
 Students and pre-dental students have opportunities at UIC College of Dentistry to work along side world-class faculty and research specialists from multiple disciplines to solve the biggest problems in oral sciences and impact lives beyond the clinic.
Student Research Group
The Student Research Group at UIC College of Dentistry is dedicated to increasing and enhancing student research opportunities at the College. The group hosts activities such as the Summer Research Symposium to promote and support student research in dentistry as well as encourage and facilitate opportunities for students to share and further their research. 
The Student Research Group is hosting a 2018 Midwest Regional Dental Students' Research Conference on April 14th.  And – they are seeking abstracts from pre-dental students!
Learn more about the Student Research Group
2018 Midwest Regional Dental Students' Research Conference
Meet Our Researchers
Looking for a mentor or just want to know more about our researchers? Check out our list of 40+ researchers and find out more about their research areas.
Multidisciplinary Oral Science Training (MOST)
The Multidisciplinary Oral Science Training (MOST) Program is an umbrella program that supports trainees at various stages of their career and graduate studies that fall within the core research/training mission of the training grant. The program offers several tracks for both undergraduate and graduate / post-graduate researchers, including a PhD program and a combined DMD/PhD program, and a postdoctoral fellowship.
Video: Student Researchers in the MOST Program
In this video, faculty and students describe the advantages of being a student and researcher in the DMD/PhD Program.  
Student Researchers Presenting at 2018 Clinic & Research Day
Read below about a few of the students who presented their posters at this year's 31st annual Clinic & Research Day.
Polina Gubareva 
Biological Sciences, Psychology, Pre-Dentistry
UIC Honors College
Vice President, UIC Pre-Dental Club 
Polina is a UIC undergrad in Biological Sciences, Psychology and Pre-Dentistry. She's also in the UIC Honors College, and is Vice President of the UIC Pre-Dental Club.
"Presenting at Clinic & Research is extremely rewarding, especially as a pre-dental student. Not only did I get to proudly present my work to classmates and faculty, but I also learned how to synthesize a whole year of work into a poster and 5 minute presentation!
My research is focused on the NG2 and Type VI Collagen interactions in the extracellular matrix of the TMJ following induction of osteoarthritis. Last year, I compared the interaction in the TMJ to the knee and found that the NG2 internalization is present in both joints, so this year I decided to focus on the knee only to further study the effects of the NG2 internalization. In the long run, we will study what happens to the signaling pathway after the NG2 is internalized.
I have been interested in research since high school, where I led an independent project about how enamel is effected by various sodas. Later, I competed in the Illinois Junior Academy of Science (IJAS). And in 2016 I was awarded the UIC Honors College Research Grant.
When I become a dental student, I hope to continue working with Dr. David Reed on the same project in his lab at UIC College of Dentistry. I'm grateful to be included in Clinic & Research Day, as I want to keep research as part of my career."
Juhi R Uttamani
PhD/Periodontics Residency Candidate
Juhi's research study is focusing on the characterization of the role of microRNAs in regulating immune cell responses of the oral inflammatory disorders, namely periodontitis. Her mentor is Dr. Salvador Nares, Department Head, UIC Periodontics. Juhi previously earned a Bachelors Of Dental Surgery (B.D.S), in India.
"We're looking at how microRNAs (very short molecules that regulate gene expression) impact the physiology of periodontitis (gum disease).  We know they impact other biological processes such as cancer. By better understanding how they play a role in regulating cell migration and cell makeup in the process of wound healing, we hope to deliver new insights that will improve future periodontal therapies."
Peyton Harris, D.D.S.
3rd year Orthodontics Resident
"My study is a pilot to develop new data norms for use in 3D CBCT imaging. This work is important because 3D is the future of radiology and there currently are no 3D norms for use in cephalometric analysis – an important tool in treatment planning.  With these new norms, we can improve the analysis of skeletal relationships, and better predict future bone movement and measurement using diagnostic information in three dimensions, vs. a conventional 2D x-ray. This is especially important in the field of orthodontics, since movement of teeth and bone usually takes place over long periods of time."
Asima Chughtai
Senior year DMD Advanced Standing Candidate
"One of the great things about being a dental student at UIC is that I get to see the problem my research is solving frequently, and in real time. Almost every day, I see patients in our clinic with a crown issue, such as chipping or other veneer damage. In many cases, these patients have porcelain-fused-to-metal (PFM) crowns, which are susceptible to chipping. That's why I'm studying the potential for more widespread use of lithium disilicate, or monolithic crowns. These crowns are made from a single material vs. porcelain over metal. I'm particularly looking at their use for sets of 3 or more crowns, as part of a bridge. Since long-term research is lacking, this new data can give dentists more confidence in placing these crowns."
Anna M. Salapatas
First year DMD PhD Candidate and B.S., Mathematics, Loyola University Chicago
M.S., Applied Mathematics, DePaul University
Anna is working with Patricia Finn, MD and David Perkins, MD, PhD in UIC College of Medicine. Dr. Perkins is a professor of medicine, surgery, and bioengineering and director of metagenomic sequencing core; and director of kidney transplantation.  Dr. Finn is the Earl M. Bane professor, Head of the Department of Medicine, and Associate Dean for strategic initiatives.
Their Finn-Perkins Laboratory in the UIC College of Medicine focuses on the microbiome, using an integrated molecular biology and bioinformatics approach to investigate the interplay and contribution of genetics, miRs and microbiome in obesity, kidney, lung and cardiovascular disease. Through this work, they hope to help increase diversity and chances to address health disparities, enabling personalized health.
"I was able to train a multi-layer perceptron (or MLP) artificial neural network to identify where different microbial communities are present in different areas of our bodies with a 99.7% accuracy. Basically what this means is that we're using the power of AI machine learning and predictive analytics to model very complex systems and predict outcomes. Similar technology is currently used to power very complex computations used in stock market forecasting, facial recognition, and consumer behavioral predictions. Through this research, I want to show how AI powered bioinformatics can be used to one day prevent the occurrence of disease through better prediction of the underlying biological processes that lead to them. For instance, if we can accurately predict the results of a change in the microbiome of a transplant patient through these models, perhaps one day we can prevent transplant failure."