Student Organization Spotlight: American Student Dental Association (ASDA)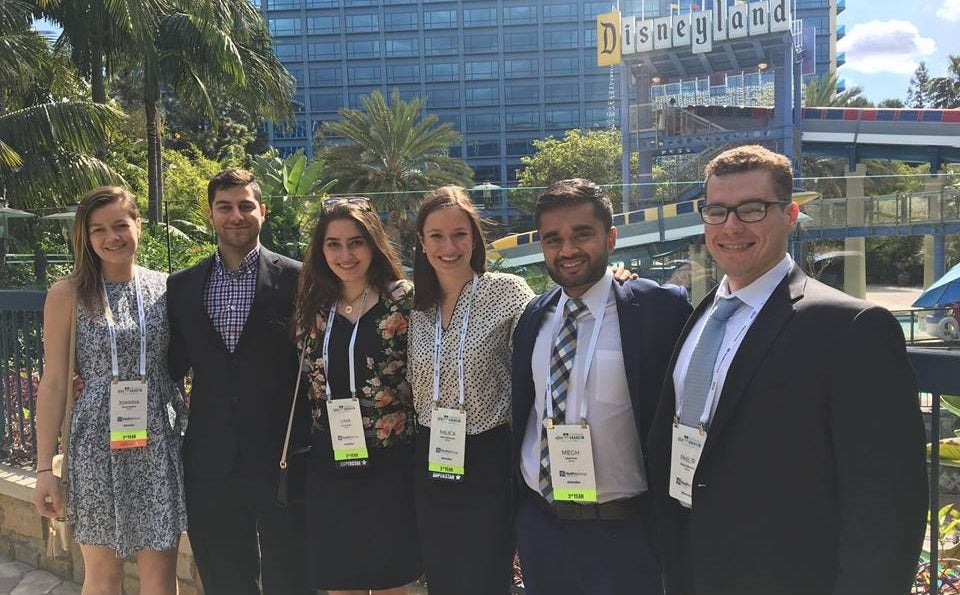 The American Student Dental Association (ASDA) is a national student-run organization that protects and advances the rights, interests and welfare of dental students. It introduces students to lifelong involvement in organized dentistry and provides services, information, education, representation and advocacy.
Nationally, ASDA connects more than 24,000 dental student members across 66 dental schools in the U.S. and Puerto Rico, plus 3,000 aspiring pre-dental students. ASDA offers dental students a wide variety of training and advocacy opportunities to be better leaders and professionals. 
Being a member of ASDA also provides dental students with an influential platform for advocating policies that impact the dentistry community on a national stage. Additionally, it's a great opportunity to network with other professional students from across the nation. 
UIC ASDA Chapter
The UIC ASDA chapter is a very engaged group that provides dental students nad professionals across Chicago and IL with several activities and programs to enrich professional training, network and get involved in organized dentistry.
At UIC, dental students in ASDA are involved in one or all of several committees including: service, legislative, pre-dental, fundraising, education, membership, and networking. When you get involved with ASDA, you have access to regional and national professional events where you have the opportunity to network with other dental students and learn about key issues facing our profession.
Special Events
The UIC ASDA chapter organizes a number of valuable sessions for students throughout the year that bring in speakers for valuable perspectives on careers in dentistry, training enhancements, and continuing professional education. They have also organized peer learning sessions, such as introductions to UIC's dentistry advanced specialty residency programs.
Peer Learning
UIC's ASDA Chapter organizes sessions to help fellow students be more successful, as well as decide on future career direction. For instance, the group organized several lunch & learn sessions that brought in residents from UIC's advanced specialty programs in dentistry, including Periodontics, Prosthodontics, Pediatrics, Orthodontics, Endodontics, and Oral Surgery. They also collaborated with UIC's ADEA PMP (Peer Mentoring Program) to host pre-dental mentoring programs throughout the year, including a DAT prep session.
Community Health Impact
UIC's ASDA chapter is very active in the community, leading volunteer-led health events in the Chicago's under-served neighborhoods.
One of their most successful events is the Smiles for Save Haven, which the chapter has led for the last two years.  A Safe Haven is a foundation that provides services to homeless people in sudden or chronic social and financial crisis, to help them achieve sustainable self-sufficiency. UIC students work with A Safe Haven's homeless shelter to provide much needed dental care to those struggling in the area.
In 2018, a group of students and faculty with UIC's ASDA chapter provided oral health instructions to children and their parents, learned more about their personal stories, and shared a few laughs. Thanks to their volunteered efforts, 38 children received much needed dental care. It was a great time and an even better way to get our college's name out to the surrounding community.
In July 2018, the UIC ASDA chapter will be collaborating with  the UIC College of Dentistry chapters from the American Dental Education Association(ADEA), and  American Association for Women Dentists(AAWD) to volunteer at the 2018 IL Mission of Mercy, a charitable dental clinic in Springfield, IL hosted by the Illinois State Dental Society (ISDS) Foundation.  Students will join with more than 1,000 volunteer dentists, hygienists, assistants, dental students and others to provide free dental care to patients who have limited financial resources or are otherwise unable to visit a dental office. 
Advocating for Dental Students
UIC's ASDA Chapter represents IL dental students' rights to advocate policy during annual ASDA sessions representing members from across the country.  Annual Session is where the association discusses important policies and resolutions that impact students and the dental profession overall. The House of Delegates meetings provide the stage where the pros and cons of these resolutions can be respectfully debated by members. Annual Session is also the venue for the election of it's leadership committee and district trustees. ASDA is run by students for students, and the leadership team strives to constantly support the changing needs of its members through innovative initiatives.
During the Feb. 2018 Annual Session in Anaheim, California, at Disneyland, more than 600 dental and pre-dental students attended the conference  -- and had some Disney fun also! 
ASDA values the voice of its members, and attendees get the opportunity to express their positions on the resolutions that were brought before the House. The Annual Session is a great way for students to get involved in national policy within a student organization, as well as gain an understanding of current issues affecting their profession.