Orthodontics and Oral Medicine departments are hosting the first Virtual Pain and Sleep Symposium on Friday August 7th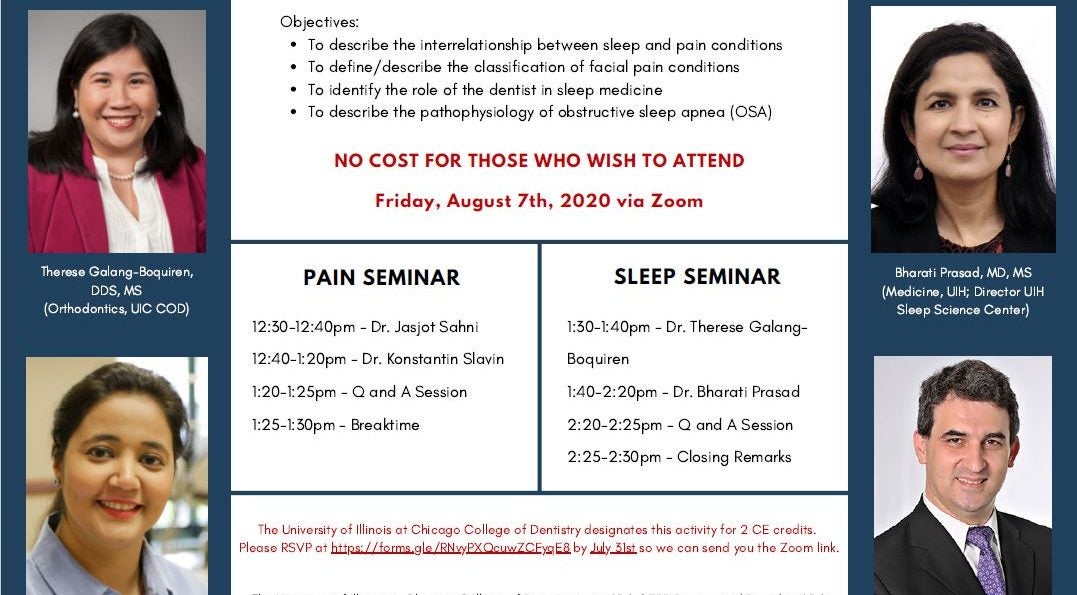 July 20th 2020
College of Dentistry's Orthodontics and Oral Medicine departments are hosting the first Virtual Pain and Sleep Symposium on Friday August 7th 2020. Two UI Health leaders in sleep medicine and neurosurgery will be the keynote speaker for this event.
The event is free of charge and is being hosted virtual using Zoom video conferencing.  College of Dentistry designates this activity for two CE credits.
Objective of the Symposium:
1) To describe the interrelationship between sleep and pain conditions
2) To define/describe the classification of facial pain conditions
3) To identify the role of the dentist in sleep medicine
4) To describe the pathophysiology of obstructive sleep apnea (OSA)
Please RSVP at https://forms.gle/RNvyPXQcuwZCFyqE8 by July 31. The link to attend via Zoom will be emailed to you.
Modified on November 10, 2021