ISPD Recognizes Research Excellence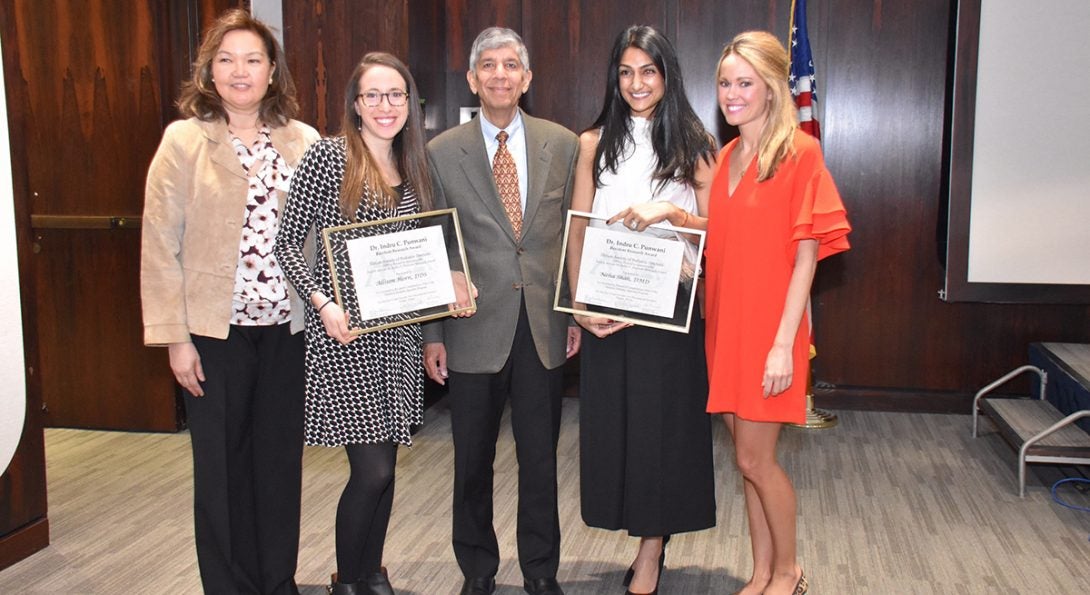 The Illinois Society of Pediatric Dentists awarded its fourth annual Dr. Indru C. Punwani Graduate Student Research Awards at the ISPD meeting at the American Dental Association building in Chicago on April 7.
Recipients were Dr. Allison Horn, Resident, Pediatric Dentistry, UIC, and Dr. Neha Shah, Pediatric Dental Resident from Lurie Children's Hospital.
Dr. Horn's research is "Comparison of Dexis CariVu caries detection device to traditional bite wing radiography for diagnosis of interproximal caries in primary and young permanent teeth." Dr. Shah's research is "Bacterial Inhibition and Cytotoxicity of Silver Compound Dental Materials."
"I felt so honored to receive the ISPD Punwani Award," Dr. Horn said. "I was actually first introduced to the Dexis CariVu device, the subject of my research, at the Fall 2015 ISPD meeting. There was a vendor displaying it and I took interest in it because it seemed like it had such excellent applications in Pediatric Dentistry.
"After some preliminary literature review, I discovered that CariVu had been on the market for years but there was so little written about it and almost no studies on it," she added.                                                                                
"Fortunately, we had recently acquired the device in the Post-graduate Pediatric Dental Clinic. This gave me the opportunity to conduct a study on its efficacy in a pediatric setting. A year-and-a-half later, I was back at ISPD to present my preliminary results," Dr. Horn explained.
"They presented their research at the ISPD spring meeting and presented posters at the American Academy of Pediatric Dentistry's annual session in Washington, DC, in May," said Dr. Claire Garcia, President of the ISPD.
The award is named for Dr. Punwani, Professor Emeritus and former Head of Pediatric Dentistry at the College. Dr. Punwani was a longtime Executive Director of the ISPD. It has been presented since 2014.
The award honors two Illinois pediatric dental residents for their excellence in dental research. This year each recipient received a certificate along with a $500 cash prize to help defray costs to attend a national or international dental meeting to present their research.
ISPD committee members Dr. Mary Hayes, Dr. Reena Shah, and Dr. Ashlee Vorachek selected the winners.
Photo caption: Dr. Claire Garcia, President of the ISPD; Dr. Allison Horn, UIC Pediatric Dentistry Resident winner of the Punwani Award; Dr. Punwani; Dr. Neha Shah, Lurie Resident winner of the Punwani Award; and Dr. Ashlee Voracheck, Chair of the ISPD Punwani Award Committee.