ISPD Recognizes Research Excellence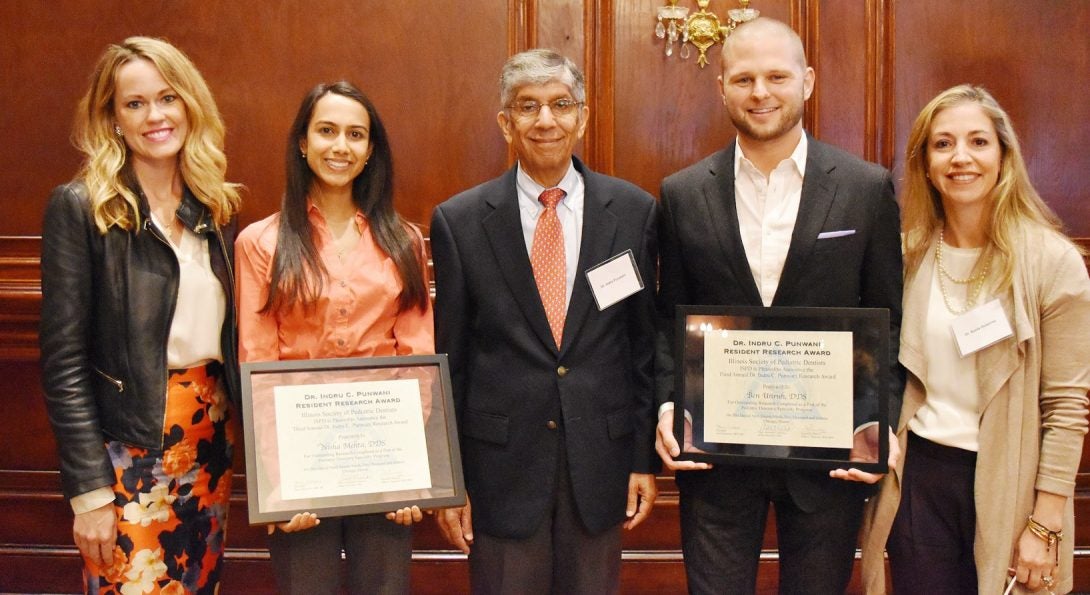 The third annual Dr. Indru C. Punwani Resident Research Award was presented at the Spring meeting of the Illinois Society of Pediatric Dentists (ISPD) on April 29, at Maggiano's restaurant in Chicago. The award is in recognition of Dr. Punwani, Professor Emeritus and former Head of Pediatric Dentistry, University of Illinois at Chicago College of Dentistry.
Dr. Punwani has been a longtime Executive Director of the ISPD, and had urged the organization to become more involved in research and academics. The ISPD decided to name the award for him.
The 2016 award winners are: Dr. Nisha Mehta, who recently earned her MS in Oral Sciences and Certificate in Pediatric Dentistry, for her research entitled, "General Anesthesia versus Moderate Sedation: Factors Affecting Caregivers' Decisions," and Dr. Ben Unruh, Ann and Robert H. Lurie Children's Hospital, for his research "Inhibition of Autism Spectrum Disorder Associated Bacteria by Polyols."  Both recipients were awarded a certificate of recognition along with a $500 cash prize.
The award highlights the importance of not only being a superb clinician, but also the importance of continuing education and research to support advancements in the field.  The ISPD presents the Dr. Indru C. Punwani Graduate Student Research Award annually.
Caption: Left to right, Dr. Ashlee Vorachek, Research Committee Chair ISPD; Dr. Nisha Mehta, who recently graduated from the Pediatric Dentistry program; Dr. Indru Punwani, Executive Director ISPD; Dr. Ben Unruh, Lurie Children's 2nd year resident; Dr. Sonia Gutierrez, President ISPD.