How to Get The Most From Shadowing A Dentist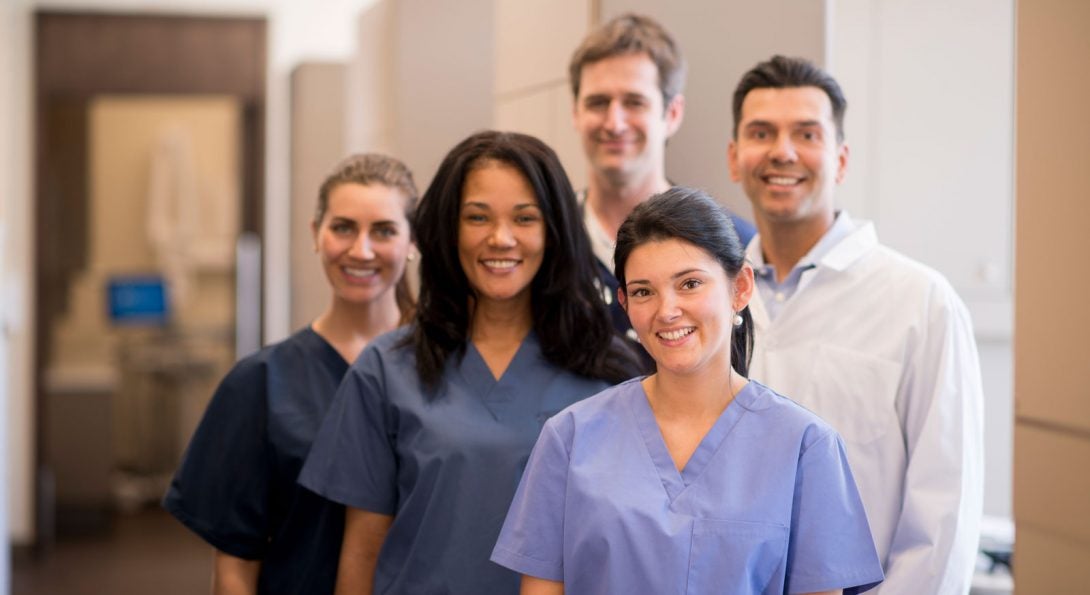 While there are a lot of ways to learn about being a dentist, nothing compares to observing the practice of dentistry first-hand. Aside from having a close friend or family in the field, there simply is no better way to get the inside story about one of the top jobs in the US (US News Top Jobs Report, 2018).
Shadowing really helps to confirm your career choice and gives you confidence as well as motivation. When school gets rough during the semester, shadowing can give you that push in the right direction to keep you going.
One of the best things about shadowing is getting a first-hand look at the things you may not learn in school such as patient interaction, office procedures, or acquiring new patients.  These are also very important aspects to being a successful dentist.
Most dental schools (including UIC) require that applicants have shadowed a dentist or dental professional. So, it makes sense to get the most out of the hours you'll spend shadowing. With some preparation, you can have a great shadowing experience that exposes you to the clinical and business side of running a dental practice, provides career guidance, and better prepares you for dental school.
What is dentist shadowing?
According to ADEA's Go Dental Guide, shadowing is "going to a dentist's or dental specialist's office to observe procedures, learn terminology and techniques, observe different practice environments and ask the dental professional questions about his or her journey to practicing dentistry."
Shadowing a dentist, or another health care professional in a hospital, helps you become acquainted with many aspects of dentistry, and how it plays a role in health care overall. First, you will get valuable exposure to current treatment methods used. Students who shadow also learn about the role of assistants and hygienists in care delivery, as well as the customer service practices used and the wide range of technology involved in modern practices.
Another key advantage of shadowing is getting a closer look at the people side of the practices. This includes doctor–patient interactions, and how dentists and staff work closely together throughout the day. It's also valuable to see how dental professionals educate patients and deal with difficult situations.
How do I find a dentist to shadow?
Personal, family connections
Many students start with their personal dentist. Your personal dentist may be happy to help and provide you with the hours you need. Another great option is to shadow a dentist who is a personal acquaintance or family member.
Online dentist directories
If you don't have a relative, friend or close connection who practices, then try searching for dentists in your area. It's pretty easy to find dentists online, either by searching for 'dentist' and the city name, or using one of the leading dentist directories such as ADA's Find a Dentist, ZocDoc's dentist search tool, or using dental insurance provider directories such as Delta Dental or DentaQuest.
Pre-dental clubs, mentors
Being a part of your college's pre-dental club is a great way to find a dentist to shadow, as well as being a great resource to prepare for dental school overall. In a pre-dental club, you'll likely meet a lot of like-minded classmates, and get the opportunity to make valuable career connections. Pre-dental clubs offer hand-on training opportunities to prepare for the dental application, and a career in dentistry. Being involved in a club may also help you connect with a professor or program advisor who either is a dentist you can shadow, or knows other dentists you can shadow.
Whichever option you choose to finding a dentist to shadow, remember that any new connection you make is potentially a valuable long-term career resource.
Always be respectful of their willingness and time to help you succeed. Be professional, and be on time for shadowing sessions. Make sure the dental office team knows how many hours you are interested in so they can prepare their schedule. Also, be aware that some dentists may ask you to agree to terms for protection of patient confidentiality or do a background check.
Assisting and volunteering
An alternative to observing is to get hands-on experience through being an assistant. Some students may opt to assist in addition to shadowing. Among the many benefits, assisting can help to increase your comfort talking with patients,  and using dental equipment and materials.
Some students may also choose to do volunteer work at a dental practice in addition to shadowing. Keep in mind that a volunteer job can overlap with shadowing, or it can be completely different. If you are volunteering, determine what you will be doing. For example, as a volunteer in a dental practice or clinic, you may be performing duties like setting up instruments or administrative tasks and not observing or interacting with the dentist. In other cases, you may be allowed to observe procedures and combine volunteer work with shadowing to gain the most out of the experience.
Volunteering in a community health center can be very valuable in learning the importance of oral health in communities of need.  A great example of this is the student run dental clinic at Goldie's Place in Chicago.  The Dental Services Program at Goldie's Place includes a student led clinic is a first of it's kind and is nationally-recognized. Volunteering at Goldie's Place is a great way to get hands-on experience in the field of public health dentistry and provide much needed dental care to Chicago area communities in need. Students and area dentists work together to help homeless individuals maintain oral health, which in turn builds confidence to become self-supporting and financially independent.
   Video: Students Lead Dental Clinic at Goldie's Place Serving the Homeless 
How do I get started?
Scheduling
Before reaching out to dentists, get an idea of how long you intend to shadow. Of course, you may need to make changes to your daily schedule. Also, check with the dental schools you are interested in, to ensure you have planned to complete enough hours to meet requirements. Of course, going above the shadowing requirements to have a more competitive application never hurts.
Also, start early and do your homework. Don't wait until it is close to application time to cram in all the hours you need. If you wait until the last minute and have trouble finding a practice to observe, it can be very stressful.
Consider shadowing a specialist
Do you have an interest in a specialty area of dentistry? Think about what type of specialty you are most interested in and try to shadow a dentist in that specialty area. Shadowing a specialist can provide a deeper look into the specialty, and offer the opportunity to make stronger connections within the specialty field. You also may want to shadow a variety of general practitioners and specialists for an even richer experience. Even if you aren't interested in becoming a specialist, shadowing general and specialty practices exposes you to a wider style of practice styles, and organizational cultures.
Tips for a great shadowing session
Congratulations! You just scheduled your first shadowing session. What comes next?
Here are some tips to make the most of your time shadowing  a dentist.
1. Ask questions.
Don't be afraid to ask questions – a lot of questions. Get engaged, be proactive, and show your passion! Ask what you can do to help and observe as many different procedures as possible. The more interest you show, the more the dental team can guide you to get the knowledge you want. And remember – there are NO dumb questions! It's worse to not ask questions, than to regret not getting the knowledge you need while you have the chance.
2. Keep a shadowing log and take notes.
Have a good system for transferring and acting on what you've learned by taking and organizing notes well for future use. Use a shadowing log to track your hours and summarize observations.
 Unless you're lucky enough to have a photographic memory, you'll want to take good notes, as you do in your classes. And remember – because of patient privacy, photo and voice recording is likely off-limits.
3. Inquire about work life balance.
Shadowing a dentist is also a great opportunity to get to know them on a personal level. Find how how they balance work, home and other commitments. Ask them about what led them into dentistry, their career aspirations, their hobbies, family, and what they do to relax and have fun. In many cases, these kinds of questions are welcomed and will help you build rapport with the practice team.
4. Discuss the latest trends and how to get CE.
Dentists are a great source for getting practical perspectives on current trends in dentistry. Ask them how they are utilizing the latest clinical methods, technology, and marketing for dentistry. Also, find out how they stay updated with CE and dental journals.
5. Say thank you.
Finally, don't forget to thank the dental team for your time and assistance in helping you succeed. A simple thank-you can go a long way in building rewarding career relationships.
Dentist Shadowing Checklist
Here's a quick checklist to help prepare for a productive shadowing experience.
Think about what you want to get out of the experience
Consider if shadowing a specialist would be helpful
Find the right dentist to shadow – utilize your personal network, or search online
Set a clear schedule, be responsive, and be on time
Dress professionally and comfortably (ask the dentist what they suggest)
Engage with the whole practice – dentists, hygienists, assistants and office staff
Ask questions – remember there are NO dumb questions! 
Take good notes
Thank the dental team for their time
Tips from Students
Karen Homsi
UIC College of Dentistry
DMD Candidate, Class of 2019
President, ADEA - UIC Chapter
I was most successful in finding a dentist to shadow when I asked in person or when I knew someone who was a patient or colleague of the dentist. In all of these scenarios, I would introduce myself to them as a pre-dental college student interested in learning more about dentistry. If they were open to me shadowing, then I would find out when would be a good time to come in, the type of attire they prefer (scrubs vs business), which dentist I could shadow and any other related questions I may have. I'd recommend not rushing the process. By this I mean, try shadowing the office for 2-3 hours. If you think it's a good fit, ask them if you can come by again the next week for a half day. If that goes well then I would recommend establishing a schedule. For example, shadowing once every 2 weeks for 2-3 hours every Wednesday afternoon. I also would recommend starting to shadow early on, as this will help you determine if dentistry is the right fit for you.
Make sure you shadow several general dentists (GD). Not all GDs practice the same way. Some place implants, while others refer out all extractions. You'll also observe different practice models. Some practices have open floor plans while others have doors and walls separating each operatory. I shadowed at a dental office that had all the latest dental gadgets from CAD CAM to soft tissue lasers and volunteered as an assistant at a community dental clinic, which at the time was still using paper charts. Both offered me a great experience and were exciting in different ways.
Assisting gives a hands-on experience that I would highly recommend in addition to shadowing. Among the many benefits, assisting helped increase my comfort discussing medical history with patients, retracting cheeks, and acquainted me with dental materials.  
Selam Totonchi
UIC College of Dentistry
DMD Candidate, Class of 2021
I believe the best way to connect with the dentist is by asking them questions to show them your interest in learning about the profession. It is important to be social while remaining professional in their office because they have given you the opportunity to learn and experience what a dental career could look like for you. I shadowed dental assistants, hygienists, and an orthodontist so that I can see how a dental office communicates and collaborates to smoothly transition from patient to patient.
I wanted to see a lot of different experiences and communities that were treated, so I shadowed at many different offices. One was Dr. Basha-Farhat with 1st Family Dental in Arlington Heights, IL, a corporate dental office. I also shadowed Dr. Evans and his private practice, Stratford Dental in Bloomingdale, IL to get the experience of seeing a private office and comparing it to corporate dentistry. At Dr. Evans office, I was able to see CAD/CAM in use for making a crown. I also shadowed his hygienists and saw them work on a patient using a carbon dioxide laser.
The most surprising thing I learned is that different dentists have their own way of doing some of the most common procedures. For example, while one dentist prefers to use a certain set of instruments for removing dental calculus, another dentist may use a different set.
Jessica Stacko
Biochemistry Undergraduate, UIC
Secretary, UIC Pre-Dental Club
I've shadowed multiple dentists and learned different things from each of them. The first dentist I shadowed was my own dentist, Dr. Munar of Munar Dental Group in Willowbrook, IL. I spent about 10-15 hours in this first experience. I also shadowed a father and son dental team, Dr. Michael Colletti and Dr. Vince Colletti in Lombard, IL, for about 20-30 hours. Recently, I've  been shadowing two UIC alumni, Dr. Choi, and Dr. S. Fleming of Woodridge Dental. All together, I plan to exceed 50+ hours of shadowing time.
Since these dentists all come from different dental schools such as Loyola, Northwestern, Creighton, and UIC, it shows how different schools (and even times attended) allow for innovations and variance in technique, but at the same time following standards. I saw a lot of the same procedures performed in slightly different ways. I also learned that as interesting as procedures are, it's also extremely important to take note of how the dentists interact with their patients, make treatment plans, explain procedures, etc. 
To be prepared, I made sure to have paper and a pen, as well as a snack, water, and a professional outfit for the day. I also made sure to arrive on time! I used a shadowing log to summarize what procedures I observed that day and track my hours. And I would have the dentist sign off each time I came in.
I cannot explain enough how valuable all the knowledge is that I've learned from each dentist I've shadowed, and how much I appreciate their time – shadowing has confirmed each and every time my passion for dentistry and how this is the right profession for me!
Kim Chi Dang
Liberal Arts & Sciences Undergraduate, UIC
UIC Pre-Dental Club
I went into the shadowing as a blank canvas in a sense, because I was still deciding if dentistry was right for me. Other than being a patient myself, I didn't really have any other perspective on dentistry. However, you can use this as an advantage. To me, it was kind of like starting a journey, but I didn't know where I would end up. In a way, I wanted to have as much fun out of it as I could because shadowing was a way for me to test the water about my interest and commitment to dentistry.
I shadowed with Dr. Ned at Skyline Smile, in the Chicago West Loop. I shadowed about 70 hours over the course of a year, usually on a weekly basis. I didn't have a prior connection with Skyline Dental prior to this, and it was a convenient location for me. In addition to observing extractions and root canals. I also observed some cases that included deep cleaning, taking different types of impression, replacing a veneer, making an on-site crown, etc.  I also got some exposure to Invisalign work. Because I never needed braces, I wasn't aware that there were alternatives to the traditional braces.
I was also very fortunate to work with a very passionate hygienist. I appreciated that she would actually quiz me on things later on and expect me to know it! Because of her and the dentist, I learned about the nomenclature of how to refer to each tooth in the human mouth, adults and children; this was very fascinating to me because I wasn't aware that there were two different systems at all.
One of the best things was that I learned about some of the latest dental technology. This included an intraoral wand camera so that patients can see a particular tooth in real time;  and an on-site crown maker. I was able to see the process from beginning to end for several patients when they wanted to have a crown made.  I loved every moment that I spent shadowing, and I felt that it did reinforce my interest in dentistry, and led me to becoming a pre-dental student. 
Finally, don't be discouraged if a practice rejects your request to shadow. Sometimes, the dentist is uncomfortable with another person in the room besides the patient and an assistant. Just keep trying!
---
Get Ready For Dental School!
Sign up for Admission Alerts to get the latest updates on upcoming pre-dental events, webinars, admissions tips and college news on your way to the DMD application!