Give Kids a Smile Day: Introducing Mr. Molar and Clark the Cub!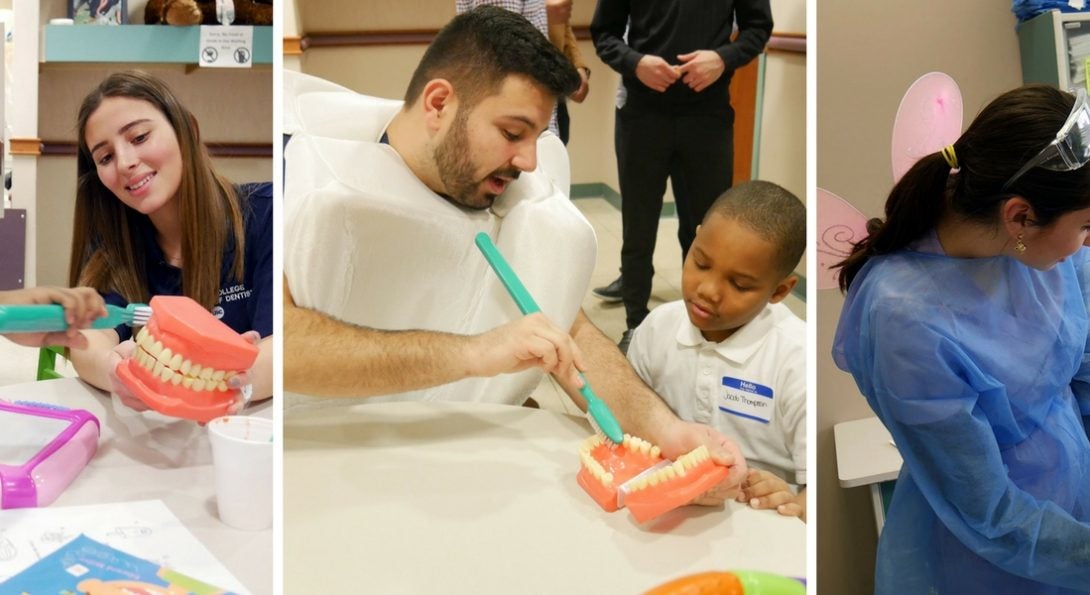 About 50 students from St. Malachy School visited the College of Dentistry Feb. 8 for its Give Kids a Smile Day.
The annual event brings together students and faculty from the college with schools around Chicago to promote oral health education and provide free preventive exams to underserved communities. This is the 16th year the  College of Dentistry has hosted the Give Kids A Smile event to improve education and access to dental care for under-served populations in Chicago, and raise awareness of untreated dental disease. 
While at the school, the students are visited by the Tooth Fairy (a UIC College of Dentistry student) and other fun characters -- including this year's Mr Molar!
St. Malachy School in Chicago has been working with the College of Dentistry for more than ten years to provide youth oral education and dental care. The school is located at 2252 W. Washington Blvd., serving children in grades PK – 8. 
Oral Health Starts With Prevention and Education
"Oral health is an important part of overall health," said Sahar Alrayyes, Clinical Associate Professor and Director of the Pediatric Dentistry clinic in the College of Dentistry. "If kids understand the basics about brushing, flossing and healthy diets, they are more likely to prevent cavities, early loss of teeth and gum disease — things that can cause pain and school absenteeism in the short term and impact their quality of life."
While nearly 37 percent of kids ages 2 to 8 have cavities, Alrayyes said the risk is higher in kids who live in low socioeconomic status neighborhoods, like those who attend St. Malachy.

Tooth decay (cavities) remains one of the most common chronic conditions of childhood - especially in underserved populations.
1 of 5 (20%) children aged 5 to 11 years have at least one untreated decayed tooth.
1 of 7 (13%) adolescents aged 12 to 19 years have at least one untreated decayed tooth.
The percentage of children and adolescents aged 5 to 19 years with untreated tooth decay is twice as high for those from low-income families (25%) compared with children from higher-income households (11%). 
Many children enrolled in Medicaid receive no dental services throughout the year.
Say Hello to Mr. Molar!
Moein Azimi, aka "Mr. Molar," demonstrates proper oral hygiene techniques at Give Kids a Smile Day.  
The St. Malachy students, who are in kindergarten, second and sixth grades, rotated between educational presentations, activity stations and preventive exams.
Karen Homsi, a third-year dental student in a pediatric clinical rotation, is one of 12 students who helped provide preventive care — like cleanings and fluoride treatments — to kids during Give Kids a Smile Day.
"I have something that can help you," Homsi said to a St. Malachy kindergarten student during a cleaning. "Remember the 'Rules of Twos.' Brush two times a day, for two minutes. Side to side, and don't forget your tongue!"
Homsi said each kid is different.
"Some ask a lot of questions and some sit quietly until the exam is over, but I think they are all having fun because they are here with their friends and doing things that don't normally happen at the dentist," she said.
Sue Jolie, a kindergarten teacher from St. Malachy, said keeping things fun is what keeps her students interested.
"Yes, they are learning about dental health, but they are also getting their face painted — that gets them excited," Jolie said, "and they get a kick out of interacting with the dentistry students, who are younger and more relatable than most dentists they've known."
A fourth-year dentistry student known to the St. Malachy students as "Mr. Molar" entertained kids by dressing up as a tooth and carrying a novelty-sized toothbrush while teaching them about good brushing habits.
"We're here to make it fun so that they are more likely to remember what they learned," said Moein Azimi, aka Mr. Molar. Azimi, who lived in Iran until the age of 17, said he has seen firsthand what happens when preventive health is not a priority and dental care is "seen only as a luxury."
"Preventive care is the best care," Azimi said.
This is the 16th year the College of Dentistry has hosted Give Kids a Smile Day, a program of the American Dental Association Foundation that launched nationally in 2003 as a way for dentists to join with others in the community to provide dental services to underserved children.
"We want to do our part in reducing oral health disparities and we want to provide our students with the opportunity to give back, understand the issues around access to care, and gain valuable patient care experience," Alrayyes said.
Clark the Cub Visits the College!
This year, we invited Clark the Cub to stop by during Give Kids a Smile Day.  
Clark, the Chicago Cubs mascot, stopped by to help us gives kids a smile. 
"Clark was a huge hit with the kids, and everyone else!" says Clark Stanford, Dean of the College. "It was a cold snowy day, and we thought it would a be nice way to say thank you to our community."
About Give Kids a Smile Day
The ADA Foundation's Give Kids A Smile program was launched nationally in 2003 as a way for dentists to join with others in the community to provide dental services to underserved children. Each year, about 350,000 to 400,000 children benefit from more than 1,500 events, all because of the efforts of 40,000 or more annual volunteers nationwide.
Contributing Writer:
Jacqueline Carey
UIC News
twitter.com/JCareyUIC