East Meets West: UIC Dental Students Visit China to Experience Dental Education and Culture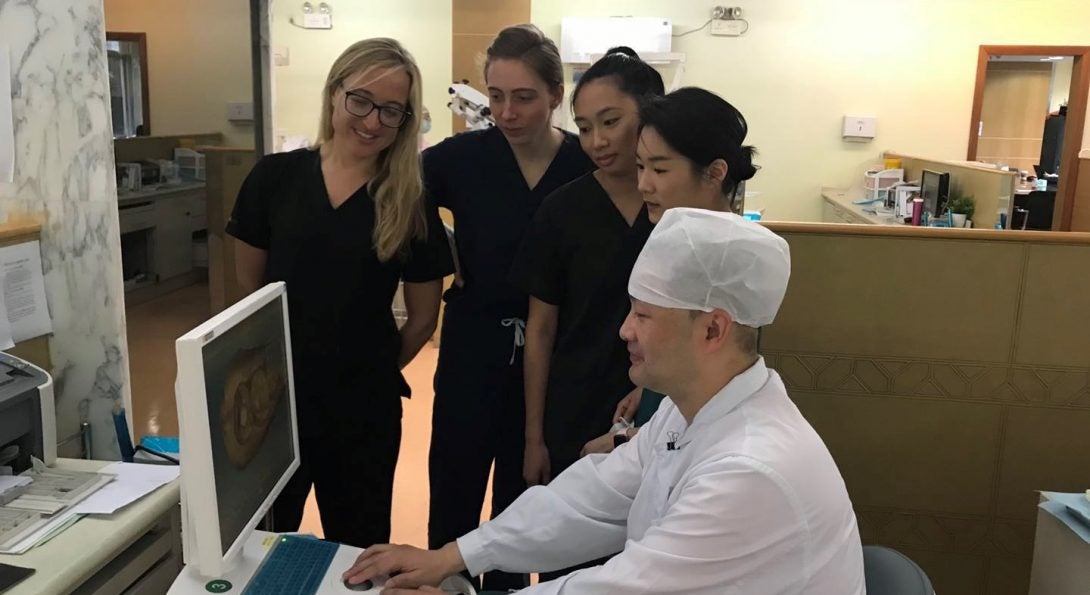 Since 2012, students from the Guanghua School of Stomatology, Sun Yat-sen University (SYSU) in Guangzhou city, Canton Province, China, visit the College of Dentistry as part of an extramural rotation program. 
"Our students and faculty had the opportunity to meet dental students from a foreign country with a different culture and dental education system," said Dr. Christine Wu, Professor, Pediatric Dentistry, University of Illinois College of Dentistry. Wu is the faculty organizer of the visit. 
"We come to learn the differences between the two dental education systems and training. Our dental students were able to showcase the college and act as an ambassador for UIC. Students from both institutions have bonded during this short period and some have made life-long friends through this exchange." 
The international dental student exchange program sends UIC dental students to SYSU in China for an introduction to dental education in a new culture. It is one example of how both universities collaborate to share knowledge across borders. The dental exchange program was first established under former Dean Bruce Graham's tenure, who was very supportive in getting this off the ground.
Since the program began, it has gained tremendous prestige and popularity in China. This year, there were more than 20 applicants from SYSU, and only four were accepted to come visit. In the past, visiting students have always been female, but for the first time, two males were among the four visiting students. 
"Under the exchange agreement, the SYSU dental students learn about the dental education system and dental health care system in the United States," said Dr. Wu. "They will observe teaching at the pre- and post-grad dental clinics and research laboratories. They will also attend several Small Group Learning sessions, seminars and extracurricular activities."
UIC Students Visiting SYSU
During the past five years, several UIC dental students have spent three to four weeks during their extramural service learning rotations at the Guanghua School of Stomatology.
Dean Clark Stanford visited SYSU in 2016 when he signed a renewal of the exchange agreement established between the schools, and taught a clinical continuing education course in implantology. 
Over the years, visiting research scholars and faculty from the Guanghua School of Stomatology have participated in collaborative research projects of mutual interests at COD. College faculty members have also presented Continuing Education courses, both clinical and research, at the Guanghua School of Stomatology.
  VIDEO:  UIC Dental Student Rotations in China
Video courtesy of  Nicholae Brown, DMD Class of 2019
Madison Allen, a recent DMD graduate, traveled to Guangzhou for her final extramural rotation.
"The opportunity to travel internationally and observe dentistry was an eye-opening and rewarding experience," Allen said. "Not only did I learn more about the dental education system internationally, but I had the opportunity to experience a different cultural attitude toward dentistry."
Allen said the international rotation helped her grow as a dental provider because of the opportunity to see new advancements in the field of dentistry, to learn about different cultural attitudes towards dentistry, and to experience dentistry in a different country.
"Over four weeks, I observed in the Endodontics, Pediatrics, Oral Surgery, and Prosthodontics departments," Allen said. "Each department provided me with clinical techniques supplementary to my own dental education thus far." 
Allen shadowed a professor, Dr. Feng, in the Pediatrics department who specialized in interceptive orthodontic treatment. Dr. Feng demonstrated the use of certain appliances to correct malocclusion in children before their primary growth spurt.
Allen also observed several surgeries within the Oral Surgery department, including squamous cell carcinoma removals, mandibular gland tumor removals, and an osteosarcoma removal and reconstruction of the mandible with a fibula graft. 
"My experience in each department at the Guanghua School of Somatology provided me with enhanced education experiences that will supplement my current dental curriculum at UIC," Allen said. "It was beneficial to my future career as a dentist to experience dentistry in China and understand different cultural feelings towards dentistry." 
UIC dental students on rotation at Guanghua School of Stomatology, Sun Yat-sen University (SYSU) in Guangzhou city, Canton Province, China
Nicholae Brown, another recent DMD graduate, also traveled to China for the exchange program. 
She noted that most patients in China have insurance through the government that covers about 80% of the treatment fee. This may have an effect on how the culture handles oral hygiene outside the dentists' office. 
"Many times, patients would not go to the dentist until they had a major problem," Brown said. "We witnessed many full mouth rehab cases. Young patients, 20-30 years of age, would have multiple missing teeth and need restorations on every remaining tooth they had."
The extramural exchange program with SYSU allows us to have a global view of dentistry and patient treatment — for our programs, professors and for students here and at SYSU.
This Year's Visitors From SYSU
Recently, four dental students from SYSU, Chaoran Fu, Lu Zhan, Min Cai, and Bokai Zhu, visited the college for three weeks. A dozen of our D4 students have also, over the years, participated in a 4-week extramural rotation program at SYSU in China.
"During the first week we had the opportunity to tour the College and the UIC campus and to know more about what was happening at the school here," Fu said. "From the second week and on, we had a full schedule of observing pre-docs and post-graduate clinics. We joined in small group learning and lunch and learn seminars."
Visiting students also got a taste of local culture and said they enjoyed visiting the aquarium, shopping at record stores and seeing the fireworks at Navy Pier. They also got a chance to see the differences and similarities in dentistry across an ocean. 
"There are differences from the two countries or the two systems, but when you look through these differences, you can find the basic things that we share," said Zhu. "The core of dentistry is the same: We all treat patients equally and we need to sharpen our skills to better serve the patients. We are different, but we're all human beings." 
Guanghua School of Stomatology at SYSU, China
The Guanghua School of Stomatology is one of the major dental schools in China. It was founded in 1974 as the Faculty of Stomatology, Sun Yat-sen Medical College. In 1977, it became the College of Stomatology of Sun Yat-sen University of Medical Sciences (SUMS), and was renamed as the Guanghua School of Stomatology in 2001, when SUMS merged with Sun Yat-sen University (SYSU). 
Today, the School has a staff of more than 400 with nearly 1,000 full-time students. It undertakes clinical work, as well as teaching and research tasks, and offers a variety of programs for undergraduates and postgraduates, and is the only school authorized for stomatology PhD programs in South China.
The Hospital of Stomatology of SYSU is one of the most prestigious and advanced dental hospitals in China. It has 208 dental chairs and 66 hospital beds, and it is the main hospital to undertake the School's teaching tasks and to provide dental services to the community.
The Institute of Stomatological Research is located in the North Campus of SYSU. Many research projects in the fields of molecule biology, cytology and dental materials can be undertaken at the Institute. The "three-in-one" structure, which combines teaching, clinics and research together, is consistent with the advanced model in the world.
Over the past several years, the School has made significant contributions to the development of higher dental education and the advancement of dental clinical techniques in South China. The School has also made great achievements in multidisciplinary research fields. With its well-structured teaching programs and quality clinical technology, the School aspires to be one of the leading centers in dental education, research and healthcare in China.