Dr. Seema Ashrafi Earns Jon Daniel Teaching Award, HOPE Award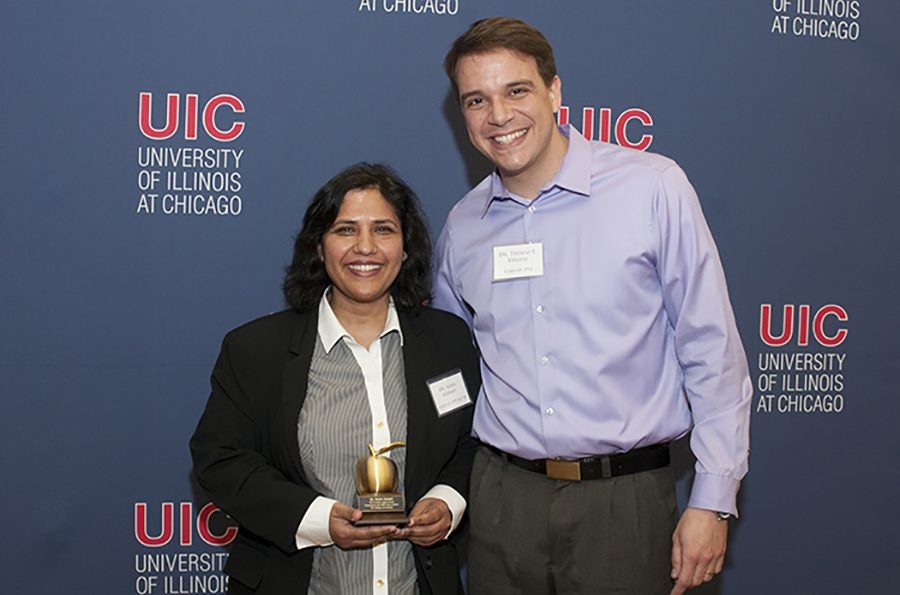 Dr. Seema Ashrafi, Clinical Associate Professor and Director, Pre-doctoral Periodontics, and Clinical Director of the Advanced Standing Program, in May was named the 2017 recipient of the College's Jon Daniel Teaching Award, which confers upon her the distinction of also being a Jon Daniel Teaching Scholar.
In March, she also was honored with a UIC HOPE (Honoring Our Professors' Excellence) Award.
Regarding the Daniel Award, Dean Clark Stanford said, "Dr. Ashrafi is involved with students at all levels in both the Pre-Doc and Advanced Standing programs. Dr. Ashrafi's nominations cited her commitment to her students and her gift for engaging students on a personal level.
"She has earned the admiration and respect of her colleagues and students by demonstrating the highest standard of professionalism and excellence in dental education," he continued. "Dr. Ashrafi's commitment to the academic mission of our College and her dedication to both students and colleagues make her an outstanding choice for this award."
The Daniel Award is named in honor of the late Oral Biology faculty member Dr. Jon Daniel, who passed away in 2009. It is presented to one faculty member each year for his or her exemplary contribution to the education of UIC College of Dentistry students.
Selection for the award is based upon the recipient's ability to engage students' interest, curiosity, and motivation to learn; challenge students to achieve breadth and depth in their understanding and excellence in their skills; support students in their learning by fostering clarity, meaningfulness, and confidence; and respond to student needs in ways that keep learning at the center of the educational enterprise.
"The Jon Daniel Award means a great deal to me because not only were he and I colleagues, but I also had the opportunity to be his student in histology," Dr. Ashrafi said. "He was a caring person and took great interest in student learning. I will never forget that the Department of Histology was the only department that did weekend reviews for my D-1 class prior to written and lab exams, which were amazing and interactive.
"As a colleague, he was caring precise, and humorous," Dr. Ashrafi continued. "Dr. Daniel did affect me to strive to be the best as I can be as a teacher. He believed that in order to become good at anything, you must strive to do your best and, most of all, become a good listener. I did take this advice to heart, and this is what I do on a daily basis."
Dr. Stanford congratulated Dr. Ashrafi, and congratulated the other nominated faculty this year, Drs. Jennifer Caplin, Anne George, Jamie Hofmeister, Nadia Kawar, Ghadeer Thalji, and Grace Viana. "Nomination itself is indeed an honor," he said.
Dr. Stanford also thanked the faculty members and students who submitted nominations, and the members of the 2017 Daniel Award Selection Committee: Drs. Alison Doubleday, Ales Obrez, Phil Patston, and student Hany Reyad. Drs. Doubleday, Obrez, and Patston are previous Daniel Award recipients.
Dr. Ashrafi will receive the Daniel Award at an upcoming faculty meeting.
The University conferred a HOPE (Honoring Our Professors' Excellence) Award to Dr. Ashrafi for making a great impact on the lives of UIC students living on campus in a ceremony on March 28 in Student Center East.
Dental student Asima Chughtai, nominated her for the HOPE Award.
"Campus Housing realizes how important it is for students to build a connection with faculty members, so we established this program as a way to recognize and thank exemplary faculty members for contributing to our residents' success," said Dr. Nick Ardinger, Assistant Director for Residential Education, Campus Housing.
"The award represents 'HOPE,' which to me is an act of kindness and respect toward others," Dr. Ashrafi concluded.
Photo Caption: Dr. Seema Ashrafi is a favorite with the College's students. In 2014, she received a Golden Apple Award, presented by student Thiago Vinhas.