Alumni Spotlight: Chicagoland Smile Group Making Veterans Smile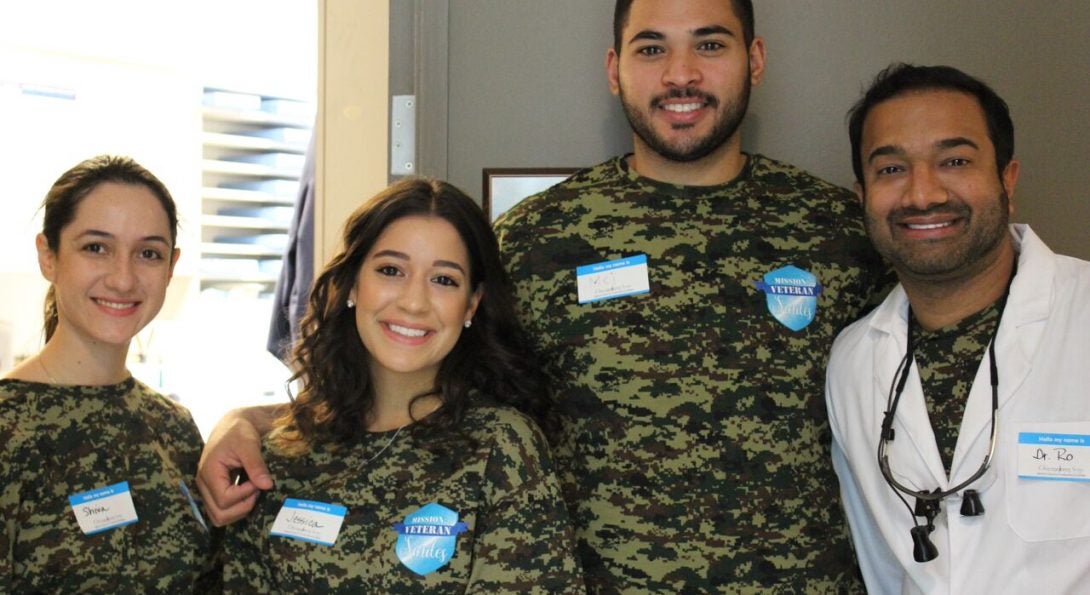 Dr. Roshan Parikh, a 2008 alumnus of the University of Illinois at Chicago College of Dentistry, and his Chicagoland Smile Group team look at their Mission: Veteran Smiles initiative as a "moral obligation," he said.
Veteran Smiles, an event focused on providing free dental care to veterans,  features over 50 volunteers from 12 Chicagoland dental offices provide exams, x-rays, cleanings, extractions, fillings, and other dental treatments free of charge. Over 300 veterans are served as a gesture of gratitude to members of the armed forces and their families for their service and sacrifice.
The group did its first free dental day in 2015, and some veterans participated. It followed up with a Veterans Day event in 2017, opening up access to dental care not only to veterans, but to their families as well, at the group's Manus dental locations at 676 N. Michigan Ave and 1646 E. 55th St. in Chicago.
"Mission: Veteran Smiles provides a unique way of giving back to our heroes, with so many service men and women in need of essential dental care," said Roger Murray, CEO of Chicagoland Smile Group. "We're excited to bring Mission: Veteran Smiles to two Manus Dental locations this year and are grateful for the generosity of our partners at Henry Schein and Ivoclar, who've donated dental supplies necessary to make this a successful event."
"What veterans coming back from helping protect our country have in terms of access to dental care is terrible," Dr. Parikh said, noting that for his team of dentists, specialists, and hygienists, "it was just the right thing to do. It's pretty easy to get volunteers, and nobody who participated was compensated."
College Volunteers Lend A Hand
Along with 35 members of the Chicagoland Smile Group team, outside volunteers included some from the College, among them student Fadi Kreisheh.
"We did anything that is a same-day procedure—cleanings, x-rays, checkups, scalings, fillings, root canals, extractions, and education," Dr. Parikh explained. "Some people needed a combination. We heard stories from people who say, 'Oh, I haven't been to the dentist since I was in Desert Storm.'"
The most extreme case was that of a female veteran from Gary, IN, who had awoken at 4 a.m. and took public transportation to the Michigan Ave. office. "I think we extracted 12 teeth from her," Dr. Parikh said. "Her maxillary front premolar to premolar all were broken to the gum line. For us to extract those for her definitely decreases the probability of infection. She said, 'I am so thankful for this.'"
Dental students did not perform procedures but escorted and comforted patients and observed procedures.
Kreisheh, who worked as an intern at Manus dental's Michigan Avenue location before enrolling at the College, said, "Volunteering at the Veteran Smiles event was my way of thanking our veterans for their services and sacrifices to preserve our freedom," said Kreisheh. "It is truly sad that these people don't have regular access to dental care and they wait for events like this to relieve their pain and save what's left of their teeth."
"I think it's something in our Chicagoland Smile Group DNA to be able to volunteer and help others out when we can," said Dr. Parikh, who also volunteers with the College as a member of the UIC Dental Alumni Association Board of Directors.
He noted that Chicagoland Smile Group is planning to continue Mission: Veteran Smiles as an annual event, at more locations.
Dr. Parikh Honored For Giving Back
Dr. Parikh will be this year's recipient of the College's C.A.R.E., or Connecting Alumni to Reignite and Engage, Award, at the C.A.R.E. event on Thursday, June 7, at 6:30 p.m. at Blue Plate Chicago. Conferred by the UIC Dental Alumni Association Board of Directors, the award formerly was called the Young Alumnus Award.
 It is presented to an alumnus or alumna of the UIC College of Dentistry who graduated no more than ten years ago and who meets certain criteria such as involvement in humanitarian and philanthropic efforts; leadership in organized dentistry; promotion of access to care, alleviating disparity of care, or other public service; and accomplishments that have brought honor to the University and to the College.
Dr. Parikh serves on the Alumni Board's Recent Alumni and Membership Committees.
Dr. Parikh mentors students at the College, and endeavors to transition students and recent graduates into the world of practice—helping them focus on what the College teaches about compassionate and quality care.
A particularly active alumnus, Dr. Parikh also has served as a judge at Clinic and Research Day, and has been very helpful to the Office of Advancement in consulting with its members on issues pertaining to recent alumni.
About Chicagoland Smile Group
Chicagoland Smile Group is a dental support organization (DSO) committed to offering dentists and dental specialists the opportunity to focus on the clinical aspects of dentistry, providing exceptional care for every patient. CSG is dedicated to advancing dental healthcare in the greater Chicago area. For more information and a list of clinic locations, visit www.chicagolandsmilegroup.com.