5 Tips for a Successful First Year in Dental School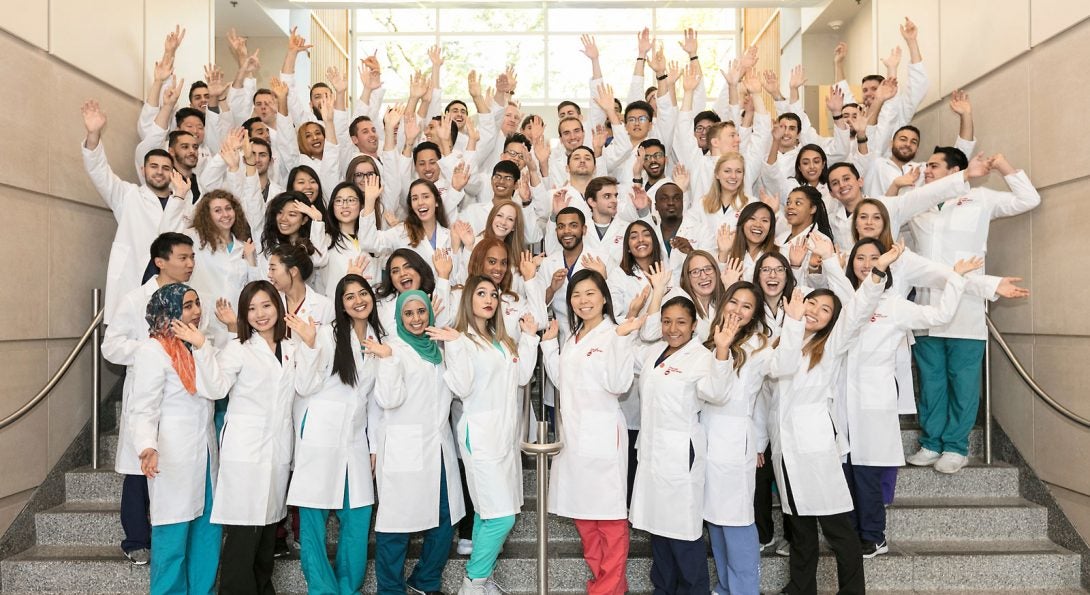 Congratulations on choosing the exciting field of dentistry for your career! The profession was recently rated by U.S. News as the Second Best Job in the United States. You'll be joining tens of thousands of professionals who are dedicated to improving oral and overall health in their communities.
The transition from undergrad to your first year of dental school is a major step. As you might imagine, dental school is much faster paced with many new concepts introduced each day, new hand skills to learn, and multiple obligations to manage.
Many incoming first year students are naturally a bit concerned about how they will address the new workload and continue to perform well.
How do you manage it all without getting overwhelmed? To prepare for this crucial year and get the most out of it, it is helpful to know what to expect. We talked with several students at the UIC College of Dentistry to get their take on the most important things to do for a successful D1 year.
1. Balance Work and Personal Time
Throughout your dental school program – and especially in the first year - your time management and study strategies will be put to test. You may feel tempted to bury your head in your books to keep up. However, you'll have several opportunities to network, volunteer, engage with the local community, and participate in student organizations to develop your leadership skills.
Balancing studying with a social life will be challenging during your D1 year. As a high achiever adjusting to a greater workload, it is easy to become so immersed in your studies that you begin to sacrifice personal and social time -- even sleep and exercise.
"I struggled  with finding that balance. I sacrificed many nights of enjoying the company of friends and family, travel opportunities, or even simple things that made myself happy in order to study. Now I realize that giving up small opportunities for enjoyment would have been helpful for relaxation and stress relief. Try to commit time to enjoy yourself."  
Alex Rozgony, DMD Candidate, Class of 2020
Dedicating some time to yourself and your social life each week will help you recharge and refocus so that you are efficient when you get back to the classroom.
There is a balance, and it will take some practice and time to determine what that is without feeling like you are sacrificing anything in the classroom. Be patient with yourself throughout this learning process.  
2. Develop a Study Strategy
Many dental students recognize that it's more important to focus on discovering your own unique study strategy instead of comparing yourself to your peers. You've already developed an effective study strategy in undergrad that you will continue to hone and rely on throughout dental school.
Maximize the time you spend studying by continuing to use the techniques that work best for you. This process will help free up your schedule for more personal time. "Everyone discovers their own strategies that work for them, and you have to give yourself time to find your own study habits," says Connie Woo, DMD Candidate, Class of 2020.
What works for others won't necessarily work for you. So, experiment with new ideas and suggestions, and continue to develop an effective technique that will help you get the most out of every study hour.
 "For me, time management was especially difficult my D1 year. I struggled to balance clinical work and the curriculum. Then, midway through my D1 year  I realized everyone handles their time differently and comparing myself to others is counterproductive. Everyone discovers their own strategies that work for them, and you have to give yourself time to find your own study habits."
Connie Woo, DMD Candidate, Class of 2020
3. Get Involved
Volunteering, participating in student organizations, and exploring research programs make dental school much more fulfilling.
Serve the community
Starting in the D1 year, the UIC College of Dentistry provides its students with multiple opportunities to become socially engaged and make a positive impact on the local and global community. First year students can participate in early education programs at local health centers and schools. 
There are many ways our students get involved and enhance their training through Community Health programs. Students can:
Many outreach programs provide medical and dental relief where it is needed most and focus on populations that continue to be undeserved, such as those living in rural and low-income areas, patients with special needs, and geriatric patients.
Join a student organization
Students at UIC College of Dentistry are very active in dental student organizations. With several Chicago area chapters of national organizations to choose from, dental students can easily find an organization that matches their passion.
Here are a few of the many student organizations UIC dental students may participate in. A full list of student organizations can be found here.
"There are so many great organizations that allow you to apply your passions."  says Jasmine Liu, DMD Candidate, Class of 2020. Alex Rozgony, DMD Candidate, Class of 2020 agrees - "it's important to find activities that match your passions such as student organizations, volunteer opportunities, and research. I've grown immensely as a person outside of the classroom by becoming involved."
Become a student researcher
The UIC College of Dentistry is also the only research-oriented dental school in the state of Illinois. Cutting-edge research programs explore fascinating themes such as regenerative science, craniofacial pathobiology, and clinical, translational and community research. The Multidisciplinary Oral Science Training (MOST) Program offers multiple tracks and options for graduate/post-graduate researchers.
There are many ways to get involved with research as a dental student. 
The Student Research Group at UIC College of Dentistry is a great place to start. The SRG is dedicated to increasing and enhancing student research opportunities at the College. The group hosts activities such as the Summer Research Symposium to promote and support student research in dentistry as well as encourage and facilitate opportunities for students to share and further their research.
At this year's 31st annual Clinic & Research Day, current and prospective students, as well as post-grad residents presented over 100 posters covering a variety of oral sciences research topics, including oral biology, regenerative science, clinical translation, and community-based studies. The event was a great opportunity for students to learn, network and present their hard work to advance knowledge in the oral sciences.
4. Learn More by Networking
Many dental students find success by branching out and networking with upperclassmen and professors, as soon as they get started. Having been in your shoes, they understand the challenges you are going through quite well. They all want you to succeed, so reach out to them for tips and advice.
"Get to know your upperclassmen. They are a great resource for tips, tricks, and at UIC everyone is super eager to share their experiences and make yours better," says Jasmine Liu, DMD Candidate, Class of 2020.
Seek volunteer and research opportunities and join clubs where you will get the chance to meet them. Attend any available office hours for the classes you're struggling with. Keep in touch with those who you connect with throughout the program, even if it's a quick email.
Don't assume that you need to wait until you have been in dental school for a while to start networking. The sooner you start the better! You never know when you might need a recommendation or a referral in the future.
And, find ways to return the favor if you can. Giving back in kind will only make your professional network even stronger.
 "A lot of useful tips/tricks are taught from the professors and upperclassmen so don't be afraid to get to know them. You can learn so much from their experiences that can't be taught from a textbook, so take advantage of the opportunities to ask questions and engage."
Connie Woo, DMD Candidate, Class of 2020
5. Be Open Minded
Many incoming students have preconceived ideas about dental specialties. As Alex Rozgony mentions, perhaps the thought of treating "difficult" kids makes pediatric dentistry unappealing, or some students may be laser focused on getting into a particular specialty like oral surgery or endodontics.
Your ideas can change once you've had the chance to take part in shadowing, volunteer opportunities and rotations. You'll get plenty of hands on experience during your four years and the chance to be exposed to multiple specialties to learn what they are really all about.
Be ready to explore as much of the world of dentistry as you can, you never know what experience might ignite a new passion in you!
"It is hard to come into dental school not having preconceived notions about a certain aspect of dentistry. Reality check: that may change! In order to truly make the right decision about your career path, it is important to keep an open mind, be curious, ask questions, and do what you love doing through clinic and throughout your four years here."  
Alex Rozgony, DMD Candidate, Class of 2020
Above All, Enjoy Yourself Along the Way
Your first year of dental school will be full of challenges and new experiences with a greater workload than you are used to. There will be an adjustment period, and you might feel overwhelmed at times.
Trust in your abilities, be confident and take steps to maintain an active and balanced life. Reach out to your peers and faculty for advice at any time - especially if you start to feel burned out.
Although many things will be new, the same work ethic, dedication and passion for dentistry that got you this far will be your foundation and strength as you move forward in your career.
"Be a sponge! Absorb as much as you can but also enjoy yourself, says Jasmine Liu, DMD Candidate, Class of 2020. The four years fly by, but you can't put all life aside from dental school on hold as you work towards your future career."
We hope these tips will help ease your transition into dental school and prepare you for a very rewarding, fulfilling and successful first year!
Extracting Wisdom
LISTEN: Episode 21: First Semester As A D1 - A Semester In Review and Advice To Survive Dental School!
Extracting Wisdom is a podcast by UIC dental student, Brandon Evert. Discover what life is like as a pre-dental student and learn Brandon's proven strategies for successful dental school admission. Follow him throughout his dental school years as he documents the journey towards his dream career in dentistry.
---
Prepare for application to dental school.
Begin your journey into an outstanding career in dentistry today!