2019 Clinic and Research Day Features Innovation and Interprofessionalism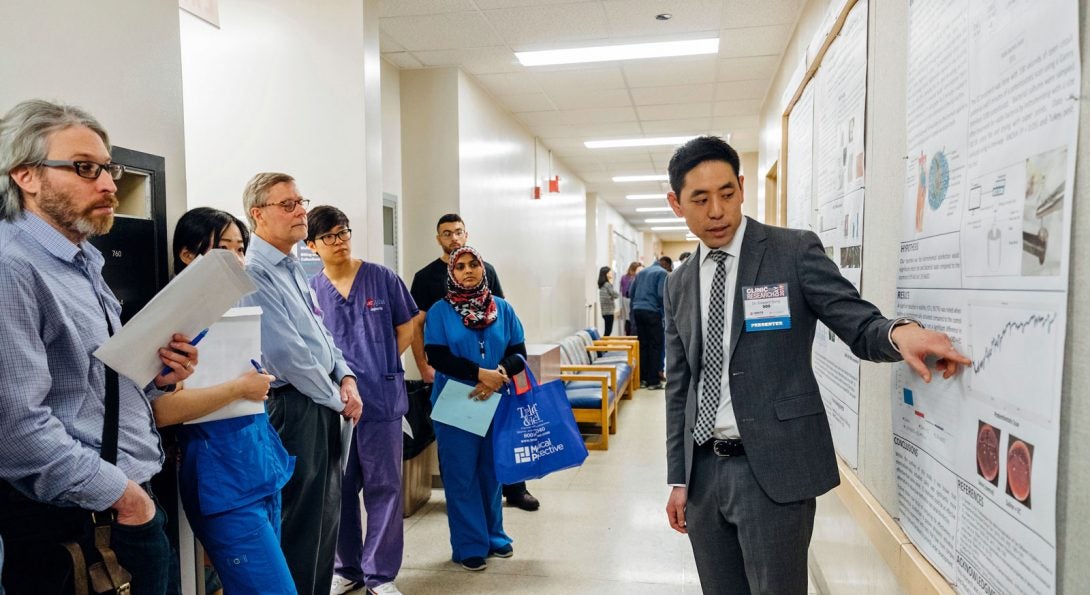 Digital innovation, multi-center, multidisciplinary collaboration and novel approaches connecting basic lab science with clinical treatment were the themes in this year's 32nd annual Clinic and Research Day.
Several undergrads, dental students, postgraduates and visiting scholars presented over 100 research projects and gave presentations at the College of Dentistry's premier research event, which celebrates research achievements in the oral sciences.
Presenters and their faculty mentors and extended research groups worked together to prepare and present posters showcasing multidisciplinary integration of education, research and care delivery across several themes in the oral sciences. 
Interprofessional Research Experiences
This year, the interprofessional scope of the event grew even bigger, as participation encompassed representatives from other UIC colleges including Education, Engineering, Medicine, Pharmacy, and Public Health, the UIC Library of the Health Sciences, as well as other Chicago area universities and health centers.
Now, in its 32nd year, Clinic and Research Day provides a forum for students, post-doctoral fellows, faculty mentors and research staff to celebrate research achievements within the college community, as well as to network with the broader UIC research community, review dental products and service exhibits, and earn CE credit. Presenters and their teams share their research and get feedback from a multidisciplinary community of health care and science professionals across the Illinois medical district.
"Presenting at Clinic & Research helped me to improve my presentation skills," said Medalith Somers, a DMD Advanced Standing candidate. "I got exposure to a wide range of projects and experiences and met many clinicians, researchers and alumni, which improved my whole research experience. It was a unique opportunity."
Research occurs at the College from the "bench to the chairside" (and the reverse)—to accelerate diagnostic and interventional therapies for patients and the broader community.
"One of the best things about doing research here is the diversity of researchers in the building and their desire to always help one another," said Annette Merkel,  a DMD/PhD candidate in the College of Dentistry's Multidisciplinary Oral Science Training (MOST) Program. "If I cannot get an experiment to work or need additional help, I can ask my mentor, other members of my lab, or someone else in the building who is an expert in that area. It is truly a great place to be trained as a dentist and a scientist."
Nerve Reconstruction to Treat Jaw Tumors and Cysts
Alexis Linnebur, an Oral and Maxillofacial Surgery Intern at Northwestern Memorial Hospital, presented a multi-center clinical study on nerve graft healing.  Her project, titled "Outcomes of immediate inferior alveolar nerve grafts during ablative mandibular resection," covered how to educate both pediatric and adult patients on how nerve grafting can help optimize the functional sensory recovery.
"It is important to stay relevant and contribute to research to preserve yourself as a well informed and knowledgeable clinician in order to treat patients with the highest ranking care," said Dr. Linnebur.
Alexis Linnebur, an Oral and Maxillofacial Surgery Intern at Northwestern Memorial Hospital, presented a multi-center clinical study on nerve graft healing.  Her project was titled "Outcomes of immediate inferior alveolar nerve grafts during ablative mandibular resection."
Approximately 150 million people in the US suffer from odontogenic cysts and tumors, with malignant jaw tumors affecting approximately 25 million people.  There are few centers in the US that treat jaw tumors, and even fewer provide nerve reconstruction.
UI Health is one of few centers of excellence in the world that is able to offer this level of patient care in order to restore full functional rehabilitation to adults and children who undergo mandibular resection. The department specializes in bone, soft tissue, nerve, and dental implant and prosthetic reconstruction.
"The University of Illinois treats approximately 300 jaw cysts and tumors annually," said Dr. Michael Miloro, Professor and Head of Oral and Maxillofacial Surgery. "Approximately 35 of those cases require resection of a portion of the lower jaw that includes sacrifice of the inferior alveolar nerve."
Linnebur was mentored by Dr. Miloro, attending surgeon, as well as Dr. Alexandria Hawkins chief resident, and Dr. Michael Markiewicz attending surgeon, all with the Department of Oral and Maxillofacial Surgery. 
Multidisciplinary Multi-Center Clinical Trial
The team has two multi-center clinical trials ongoing to evaluate specifically the pediatric patient (age under 18), and another study evaluating the impact of radiation therapy in cancer cases on the subjective and objective functional sensory recovery due to the as yet unknown effect of radiation on nerve graft healing.
Northwestern Memorial Hospital and Lurie Children's Hospital are affiliate sites for UI Health's Oral and Maxillofacial Surgery residency training program. "Having multiple sites gives us access to a wider patient base, including pediatric patients, who would not have the ability to benefit from nerve reconstruction for their jaw tumor resections," said Dr. Markiewicz.
 "With this multicenter clinical trial, we will improve our ability to evaluate the impact of radiation therapy on neurosensory recovery outcomes in patients with malignant jaw tumors who require adjunctive radiation therapy following jaw resection, bone grafting, and nerve reconstruction," said Dr. Miloro.  There is currently no evidence that radiation therapy adversely affects nerve regeneration as it affects the vasculature and blood supply.
Digital Denture Innovation
David Markiewicz,  DMD Candidate, Class of 2019, presented his case report titled, "A Partially Digital Workflow for Complete Denture Fabrication."
Digital technologies have been utilized increasingly in recent years, but seldom for denture fabrication. These technologies can make denture fabrication quicker and more affordable. Also, if a patient loses or breaks their denture, digital archiving can make replacing it as easy as calling the lab to mill it again.
Only 12 percent of dental colleges use digital technologies in their predoctoral complete denture education. The process, which involves fabricating complete dentures using PVS impressions, can be lengthy, inefficient, and often results in frustrated patients, faculty, and students. Typically, the entire workflow can take anywhere from six to eight appointments.
"We were able to develop a partially digital workflow that utilized CAD/CAM technologies to fabricate a complete denture in just four appointments, vs. the usual six to eight," said Markiewicz. "The digital technologies also increased the quality of the final denture. Rarely do you find a workflow that can simultaneously increase efficiency and overall quality." 
David Markiewicz,  DMD Candidate, Class of 2019, presented his case report titled: A Partially Digital Workflow for Complete Denture Fabrication.
Markiewicz's mentors were Dr. Foteini Touloumi, Clinical Professor, Restorative Dentistry, and Dr. Lyndon Cooper, Associate Dean, Research, and Head of Oral Biology.
"Dr. Touloumi helped me fabricate my very first denture in the predoctoral clinic and has since guided me into understanding more deeply the theory and concepts behind denture fabrication," said Markiewicz. "And, Dr. Cooper's expertise in digital dentistry techniques opened up a vast network of resources that are traditionally unavailable to predoctoral students."
Digital workflows combined with products such as Ivoclar, Avadent, etc., hold the promise to revolutionize the way dentures are made and how they are taught in dental school.
Markiewicz expects that this research and related product development to progress towards a completely digital workflow for complete denture fabrication.  "Although the technology is not sophisticated enough yet, a completely digital workflow would include the ability to digitally scan edentulous arches," said Markiewicz.
Relief from TMJ and Osteoarthritis
"Millions of people are affected by disorders of the TMJ joint, and if we could figure out what is going wrong at a cellular level, we could develop a treatment to target those factors," according to Jessica Stacko, a biochemistry undergraduate at UIC.
Stacko and her research mentor, Dr. David Reed, Assistant Professor, Oral Biology, are furthering research that may one day lead to new treatments to reduce or even cure temporomandibular joint (TMJ) related issues, and osteoarthritis (OA).
Her research aims to find a way to embed mandibular chondrocytes into 4% agarose scaffolds that can withstand loading in a compression bioreactor. Further analysis of the cells post-loading would provide better insight to change in gene expression and change in signaling pathways in chondrocytes subjected to mechanical loading. This could overall lead to discovering initiating factors for temporomandibular joint (TMJ) osteoarthritis (OA).
Stacko's mentor, and the principal investigator on the project, was Dr. David Reed, Assistant Professor, Oral Biology. "It can be scary being an undergrad researching among such great minds, but Dr. Reed encouraged my confidence by believing in my abilities. He helped me throughout my entire project by providing me with his knowledge and guidance, but most of all he helped me by supporting me."
Stacko and Dr. Reed have just started to get promising protein and RNA results from the loaded cells. "This data will begin to tell us what's really going on when cartilage cells have continuous forces applied to them," said Stacko.
Jessica Stacko, a Biochemistry Undergraduate presenting a poster titled "Mechanobiological Activation of Mandibular Chondrocytes With A Compression Bioreactor"
Improving Tissue Regeneration Using Stem Cells
Annette Merkel, a dual degree (DMD-PhD) candidate in the UIC College of Dentistry Multidisciplinary Oral Science Training (MOST) Program, presented her latest research project, "Endoplasmic Chaperone GRP78 Interacts with DMP1 to Function in Biomineralization." In this study, Merkel aims to understand the interaction of Glucose Regulated Protein-78 and Dentin Matrix Protein-1 and how they function in the differentiation of periodontal ligament stem cells and in mineralization.
"My overall goal is to understand how the two proteins function together to ultimately provide a novel way to achieve bone regeneration with stem cells in the periodontium," said Merkel. "This knowledge will give us a deeper understanding of biomineralization and lead to more reliable and effective ways of tissue regeneration."
In 2018, Merkel received a competitive F30 award through the National Institute of Dental and Craniofacial Research. The prestigious F30 is a fellowship grant for dual-degree students who aim to have careers as clinician-scientists.
As an undergraduate at the University of Illinois at Urbana-Champaign, Merkel's research was on the microbiome and the biomineralization of kidney stones. "Once I matriculated into the dual degree program, I knew I wanted to work with Dr. Anne George and expand my knowledge on biomineralization to bone and teeth here at the College."
Dr. George, the Dr. Allan G. Brodie Endowed Professor and Professor of Oral Biology, and Merkel developed her research project "that would both expand my knowledge and give me the proper training to become a dentist-scientist in the future," she said.
Merkel's research is just a portion of the mineralization research underway at the College. "I hope to continue to learn from other researchers at the College and use what I discover to enhance that research," she said. "By presenting my research nationally and internationally, I hope to help the profession by forming collaborations to find more innovative ways to achieve tissue regeneration."
Merkel's mentor is Dr. George. Her sponsors are Dr. Ana Bedran-Russo, Professor, Restorative Dentistry, and Program Director of MOST; and Dr. Salvador Nares, Head, Periodontics. Collaborators in her laboratory work are Dr. Yinghua Chen, Research Specialist, and Elizabeth Guirado, MOST student.
Proteins Influencing Tissue Regeneration
Joseph Schlosser, a DMD Candidate, was also part of Dr. George's research team.
The title of his research poster was "The Role of Dentin Matrix Protein-1 In Angiogenic Activity." He worked closely with two DMD-PhD candidates, Annette Merkel and Elizabeth Guirado, throughout the duration of the project.
The objective of their research project was to determine what effect Dentin Matrix Protein-1 has on the expression of proteins involved in new blood vessel formation. This process is critical for transporting nutrient supplies to tissues such as dentin and bone during development and regeneration. The team's latest work is the forefront of finding ways to regenerate damaged tooth structures, as well as other parts of the body.
Joseph Schlosser, DMD Candidate, presenting his poster "The Role of Dentin Matrix Protein-1 In Angiogenic Activity."
The team's biggest finding was that all of the angiogenic proteins investigated were found to be influenced by Dentin Matrix Protein-1 (DMP1). It was an exciting discovery since the entire project was based on the assumption that there would be little or no effect. The team discovered that DMP1 influenced the process of angiogenesis in a robust manner. "It shows that this protein plays an important role in vasculature formation [tissue regeneration] and thereby regulates the nutrient supply to mineralized tissues such as bone and teeth," said Schlosser.  
The work on dentin matrix protein has the potential to revolutionize oral health. Given its multi-functional role in formation of new blood vessels as well as the deposition of hydroxyapatite crystals, it shows great promise in its ability to be used as a therapeutic agent in regenerating hard dental tissues. "Everyday, we are one step closer to changing the way we look at treating carious lesions," said Schlosser.
Using Biomaterials to Improve Dental Restoration Durability
Dr. Yvette Alania Salazar, a Postdoc Research Assistant, presented her research poster titled "Dynamic Mechanical Behavior of Dentin Matrices under Accelerated Protein De-stabilization."
The average composite dental restoration fails within 5-7 years. The main reason is due to failure at the interface between tooth structure and the restoration, such as a crown. These failures frequently result in secondary caries (tooth decay).
"Despite extensive advances in restorative materials, success in improving the dentin-resin interface and minimizing replacement of restorations has been limited to changes to the material itself, " said Dr. Ana Bedran-Russo, Professor, Restorative Dentistry, and Director of the Laboratory of Applied Dental Biomaterials and Interfaces. Dr. Bedran-Russo was Dr. Salazar's mentor on the project. "Ultimately, we want to develop new methods to improve dentin matrix strength and stability, and thereby enhance the durability of dentin-resin restorations." 
The main objective of this pilot study was to determine the mechanical stability of dentin modified by proanthocyanidins under a dynamic mechanical analysis method. 
This project uses bioinspired approaches to enhance and/or recover the mechanical properties of the dentin matrix. The endurance of teeth relies on a mechanically and biologically stable dentin. These new biomaterials can for example, increase the service life of adhesive dental restorations by improving the mechanical and chemical stability of adhesive interfaces between resin composites and dentin. 
 "We were excited to see that even after the de-stabilization challenge, the bio modified dentin matrix showed stable intermolecular bonds between collagen and proanthocyanidins, revealing irreversible modification leading to permanent enhanced mechanical properties," said Dr. Salazar. "We are now able to analyze all components of dynamic behavior of viscoelastic materials such as in the dentin matrix." 
Dr. Yvette Alania Salazar, a Postdoc Research Assistant, presented her research poster titled "Dynamic Mechanical Behavior of Dentin Matrices under Accelerated Protein De-stabilization."
Medalith Somers, is also part of Dr. Bedran-Russo's research group. The title of her research project was "Concentration and Time Effects of Pine Proanthocyandins on Dentin Biomechanics," which aimed to assess the effect of concentration and exposure time of Pinus massoniana (Pm) extracts on the apparent modulus of elasticity (E') of the dentin extracellular matrix.
The study was focused on enhancing the properties of dentin structure by using materials readily found in nature. Through these investigations, Somers and her team were able to learn and understand how these extracts work at different concentrations and their stability at different moments of analysis.
This project had helped advance the knowledge of targeted dentin biomodification for clinical applications, a key area of research in Dr. Bedran-Russo's lab.
One example of biomaterials Somers and the group are working with is pine bark. Specific bioactives found in pine bark can ultimately lead to the development of new biomaterials to enhance the mechanical properties and reduce the biodegradability of dentin.
"By improving the biomechanics of dentin, even with the lowest concentration of natural bioactives, as we demonstrated in our project, we could improve patients' overall experience with restorative procedures," said Somers.
Medalith Somers presenting her poster, "Concentration and Time Effects of Pine Proanthocyandins on Dentin Biomechanics."
Interdisciplinary Treatment of Chronic Oral Facial Pain
Jasmine Liu, DMD Class of 2020 presented a case report exploring the underlying causes of chronic oral facial pain such as fibromyalgia. She worked with an interdisciplinary team of oral health clinicians and researchers to increase awareness within the practices and education about the importance of the underlying systemic medical history and interdisciplinary practice.
"Early diagnosis and management of the primary etiology of these chronic pain types is essential to prevent unnecessary or irreversible work," said Liu.  
Jasmine Liu presenting "Fibromyalgia Mimicking Odontogenic Pain: Diagnosis and Management."
The case highlighted one of the strengths of UIC's integrated and multidisciplinary approach to education and treatment. "The patient benefited from receiving the very best of care across several specialties located within one building, including endodontic as well as oral facial pain specialists," said Liu.
Liu's mentors were Dr. Satish Alapati, Associate Professor, Endodontics; and Dr. Jasjot Sahni, Visiting Clinical Assistant Professor, Oral Medicine and Diagnostic Sciences.
"Watching Dr. Sahni and Dr. Alapati interact and work together was crucial in treating this patient efficiently and successfully. Both faculty have encouraged me throughout this project as well as my dental school career," said Liu.
Learning to Be a Good Clinician and Scientist
Candidates in the DMD (and the combined DMD-PhD) program learn how to integrate scientific knowledge to inform clinical decisions. The curriculum is designed to integrate basic science with real-world clinical competencies. For instance, biomedical science courses are organized to provide comprehensive instruction into each organ system concurrently so that students can see the whole picture.
Starting in their first year, students learn foundational clinical skills in pre-patient care clinics designed to simulate real-world patient care environments and scenarios.  The curriculum also emphasizes evidence based practices to build competency in finding, evaluating and applying the best available evidence to patient treatments.
"It is important to not only be a good clinician, but to understand the science behind the things we do," said Schlosser. "That is why Dr. George not only taught me how to perform the research, but also to understood the reasoning behind each decision we made in our investigation."
Dr. Linda Kaste, Professor, Department of Pediatric Dentistry was Chair of the 2019 Clinic and Research Day Committee.
Visit the Clinic & Research Day event page for more information.
Download the 2019 Clinic & Research Day Winners