Jun
16
2022
Open House: Assistant Director of Digital Oral Health Science and Technology
June 16, 2022
4:00 PM - 6:00 PM Central Time Zone
Location
Room 501, College of Dentistry
Address
University of Illinois Chicago, 801 S Paulina Street, Chicago, IL 60612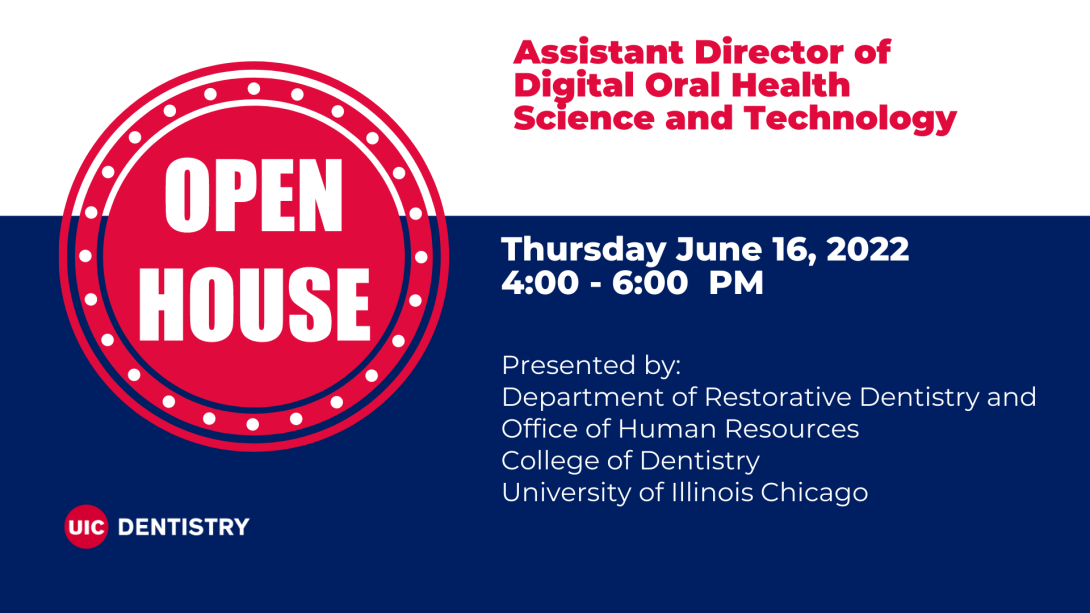 Join us to learn more about our open position "Assistant Director of Digital Oral Health Science and Technology" in Restorative Dentistry.
About this event
The University of Illinois Chicago College of Dentistry (UIC COD) cordially invites you to join us to learn more about a rewarding career as a full time Assistant Director of Digital Dentistry. This Academic Professional position provides standard, specialized, administrative, operational and business support for the Digital Dentistry Program in the Department of Restorative Dentistry.
Meet with department leadership and also learn more about the employment application process and the generous benefits package the University offers which includes a defined benefit pension plan, paid leave and tuition waivers for employees and their dependents.
UIC COD is the largest oral health college in the State of Illinois, provides care for 35,000 patients a year, and has over 500 students seeking dental degrees including DMD, PhD, Master's and all dental specialty programs. The College is a worldwide leader in oral health education, clinical care and research that is patient – centered and evidence-based.
If you have experience working in digital dentistry and you are interested in a career as Assistant Director of Digital Dentistry, enjoy working in a diverse environment, are passionate about dentistry and thrive in an environment committed to excellence, please join us for an informative and interactive evening!
Registration
Date updated
May 18, 2022