Research Seminars & Journal Clubs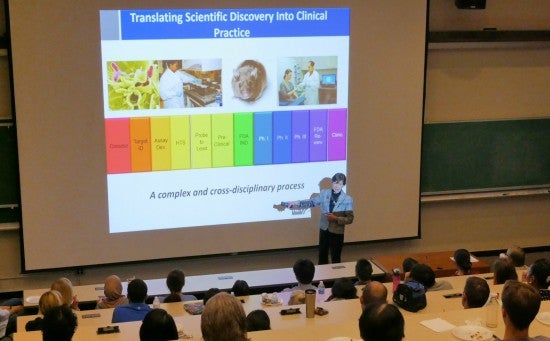 Faculty Research Seminar Series
The UIC College of Dentistry offers interdisciplinary seminars for the discussion of multidisciplianary oral health research to support the development of research-in-progress into high-quality papers and presentations that contribute to advancement of oral health and related fields. We invite faculty and guest scholars from all disciplines with an interest in oral health, biomedical sciences and public health to participate.
Dates & Times
Faculty Research Seminars meet every first Tuesday featuring presentations by a faculty member or outside guest.  Faculty Research Journal Club meets every third Tuesday featuring faculty presenting an article for discussion.
Check the College Calendar for upcoming research events
Continuing Education Credit
CE is offered for the Journal Club only.
Recent Seminar Topics
NIDCR: Enhancing Oral Health through Research and Innovation
Dr. Martha Somerman, DDS, PhD
Director-National Institute of Dental and Craniofacial Research

Exploring the Latest Topics in Wound Healing and Tissue Regeneration
Regenerative Sciences Seminar Series (RS3)
Join us for a series of informative seminars exploring a variety of topics in Regenerative Science. Speakers will present the latest research and trends in basic and translational regenerative sciences, from the repair of damaged and diseased tissue to the growth of cells/tissues to replace lost tissues, as well as the study of how materials interact with living tissues and the building of tissue replacements. RS3 is held from 12:00 – 1:00 on the 2nd Thursday of the month from Oct – May. Seminars are open to staff, faculty, and students.
Thursday, September 10, 2020, 12-1pm via WebEx Events –to register CLICK HERE
"Tumors as Overhealing Wounds: the Fibroblast Perspective."
Dr. Mateusz Wietecha, DMD, PhD
Post-Doctoral Researcher, ETH Zürich, Institute of Molecular Health Sciences
Thursday, February 11, 2021, 12-1pm via WebEx Events – to register CLICK HERE
"A strategy for the treatment of infected diabetic foot ulcers"
Dr. Mayland Chang, PhD.
Research Professor, Department of Chemistry and Biochemistry, University of Notre Dame
Thursday, March 11, 2021, 2-3pm via WebEx Events
"Oxygen Imaging of Biomaterials with Emphasis on Islet Encapsulation Devices"
Dr. Mrignayani Kotecha, PhD. – CEO and Co-Founder, O2M Technologies
Event number: 120 425 4780
Event password: 79BEy6hKkMb
Thursday, April 8, 2021 – 12pm CDT
"Design and validation of bioactive materials to promote neuronal-mediated tissue regeneration "
Dr. Chelsea Bahney, PhD.
Principle Investigator, Ctr. for Regenerative Sports Medicine
The Steadman Clinic & Steadman Philippon Research Institute
Event Number: 120 694 3630
Event Password: YUdJatNe583
Thursday, May 13, 2021 – 12pm CDT
"Regulation of Inflammation and Dead Cell Clearance by Nrf2"
Dr. Sekhar Reddy, PhD
Professor, Pediatrics, UIC College of Medicine
Event Number: 120 902 6045
Event Password: a7tNP5MJEk2
Wound Healing Journal Club
The Wound Healing Journal Club meets on the 3rd Wednesday of each month from 12:30-2:00 at the Center for Wound Healing and Tissue Regeneration in the UIC College of Dentistry. The club uses a survey format, and members are each assigned 2-3 articles chosen from a PubMed search of "Wound Healing" for the previous month. Presentations are short summaries of the papers, highlighting their contributions to the field. The Journal Club provides a way to stay abreast of recent publications in all aspects of wound healing research.
For more information about the Wound Healing Journal Club, please contact Dr. Luisa DiPietro.
Dates & Times
RS3 is typically held from 12:00 – 1:00 on the 2nd Thursday of the month from Oct – May. Wound Healing Journal Club meets on the 3rd Wednesday of each month from 12:30-2:00.
Check the College Calendar for upcoming research events
Recent Topics and Speakers
Harnessing the Inflammatory Response for Tissue Regeneration
Dr. Kara Spiller
Assistant Professor, School of Biomedical Engineering, Science and Health Systems, Drexel University

Biomimetic Strategies to Repair Dental Hard Tissue
Dr. Ana Bedran-Russo
Associate Professor, Restorative Dentistry, UIC College of Dentistry
Things the Oral Cavity can tell us About Mucosal and Systemic Immunity
Dr. Christopher Engeland
Assistant Professor,  Department of Biobehavioral Health/College of Nursing, The Pennsylvania State University
Vitamin D/Vitamin D Receptor Regulation of Microbiome in Inflammation and Wound Healing
Dr. Jun Sun
Associate Professor, Division of Gastroenterology and Hepatology, UIC Department of Medicine

Ganglioside GM3 and Diabetic Wound Healing
Dr. Amy Paller
Chair, Department of Dermatology, Walter J. Hamlin Professor of Dermatology, Northwestern University Feinberg School of Medicine
Longitudinal Multimodal Optical Imaging of Cell and Tissue Dynamics in Skin Wound Healing
Dr. Stephen Boppart
Professor of Engineering and Medicine, Departments of Electrical and Computer Engineering, Bioengineering, and Internal Medicine, UIUC
The College of Dentistry has a proud history of working across disciplines and leading breakthroughs in biological and biomaterials sciences to advance scientific knowledge and improve the health of our patients beyond the clinic. Students at UIC College of Dentistry work along side world-class faculty and staff from multiple disciplines to solve the biggest problems in oral sciences and impact lives beyond the clinic.
Working to improve treatment of oral cancer, caries, peridontal and other oral diseases. We are leading interdisciplinary investigations in the development and function of the craniofacial complex to better understand processes that occur within cells and tissues to maintain health and control growth and development.
Moving beyond tissue replacement, using materials to enable our bodies to regenerate damaged and failing tissues. We are leading investigations into how materials interact with living tissues, and the building of tissue replacements for the growth of cells/tissues to replace lost tissues. The Center for Wound Healing and Tissue Regeneration (CWHTR) is a unique community of scientists and clinicians devoted to the study of injury, wound healing, and regeneration. The Laboratory of Applied Dental Biomaterials and Interfaces is a NIH funded center studying the properties of the tooth in order to develop reparative/regenerative biomaterials to replace lost tooth structure.
Clinical, Translational & Community
Leading transformative studies to improve oral health outcomes both in the clinic and the community. We have several centers and investigators focused on the study of the incidence and prevalence of disease; measuring outcomes of interventions; and safety and efficacy of drugs, devices, and treatments in individuals. We are also investigating how and why efforts to promote oral health through intervention are accepted by communities. The Oral Medicine and Pharmacognosy Research (OMPR) Laboratory focuses on medical anthropology and ethnopharmacology to study the non-destructive radiation in oral diagnostics and forensics. The Dental Medicine Responder Training (DMRT) is performing theory and policy research supporting dental professionals for emergency preparedness throughout the community.
External Resources
National Institute of Health (NIH) Grants and Funding
National Institute of Dental & Craniofacial Research (NIDCR) 
UIC Resources
Office of the Vice Chancellor for Research
Office of Technology Management
Chancellor's Discovery Fund for Multidisciplinary Research
Biologic Resource Laboratory (BRL)
Center for Clinical and Translational Sciences (CCTS)
Library Research Resources and Clinical Tools for Dentistry
Research Resource Center (RRC)
UIC is a Leader in Research
The University of Illinois at Chicago (UIC) is Chicago's largest university and is one of the nation's top federally funded public research universities. UIC is one of only seven Academic Health Centers in the country with a full complement of Health Sciences Colleges on a single campus (including medicine, pharmacy, dentistry, public health, nursing, allied health, and social work). Student and faculty investigators in UIC's seven health sciences colleges work in an interdisciplinary research environment, with access to advanced research facilities, support for research design and data analysis, and a diverse patient population through the University of Illinois Hospital & Health Sciences System. Learn more about Research at UIC.