Building and Facilities
Building Facilities and Security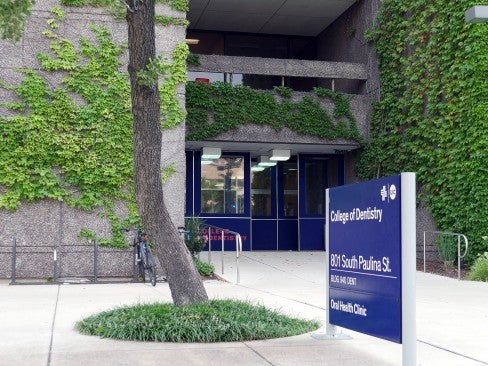 Room Reservations
Rooms are reserved online. You can only make a reservation after you have obtained an account. All requests will be reviewed within two business days and you will be contacted regarding the status of your request. To view availability, you do not need to have an account or login. Click the room reservation link and use the "Browse" menu to see a list of events or to see what space is available.
Faculty and Staff: Use your College of Dentistry ID and login. (The beginning part of your email address before the "@" and the password you use to log into your computer).
Students: Create an account with these step-by-step instructions.
Room Reservation Help
Instructions to Create Account and Reserve a Room
Or, Send an email or call 6-4958 (312-996-4958). Or see Carlos Finney in room 202D for additional assistance.
Report Building & Equipment Problems
All building related problems must be reported directly to dentfacilities@uic.edu. DO NOT use the College of Dentistry work-order form or the FMWEB site.
Building Maintenance Problems include the following:
Heating/air conditioning; too hot, too cold
Lighting; blown bulbs
Plumbing; plugged sinks, toilets, water leaks, etc.
Carpentery; hanging pictures, damaged ceiling tiles, assembling office furniture, doors jammed, door knobs falling off, etc.
Electrical; bad light switches, unsafe receptacles, power outage, handi-cap doors, etc.
Locksmith; issuing new keys for rooms, desks, file cabinets, etc.
Signs; room name plates, and department signs, etc.
Moves/disposals; equipment, furniture, chemicals, etc.
New equipment installations.
Elevators; not working properly, if stuck inside an elevator use intercom to communicate also press alarm button.
Entrance doors, outside perimeter lighting, security, grounds, windows, graffiti, unsafe conditions, building evacuation.
Sterilizers, D.I. water, exhaust fume hoods, medical gas, bio-hazard materials, compressed air (80 and 20 p.s.i.), vacuum, steam.
Disinfection of Dental Delivery System.
Housekeeping; issues, comments, complaints, etc.
Remodeling Projects
Remodeling projects must be approved by the Dean, includes minor carpentry and painting.
Receiving Dock/Deliveries
Shipping address must include your room number. The receiving dock has a telephone on the outside so that delivery drivers can dial for assistance.
Dental Equipment Emergency Repairs
Equipment technicians are on call from 7:00 A.M. to 5:00 P.M. Monday thru Friday.
Technicians will respond to all Dental Equipment Problems in ALL the Clinics, Instructional and Plaster Labs throughout the building. Breakdowns include; unit keys, unit cabinets, unit drawers/doors and lockers. Technicians will also respond to medical gas emergencies.
Building History
In the College's previous Wood Street building, its home from 1937 to 1972, students sat in cavernous lecture halls for their classes and performed clinical work in laboratories on each of the building's nine floors. Instruments and equipment were kept in lockers in the basement, and to get to the clinics on time with heavy cases of equipment on one of only two elevators was a daily struggle. The lack of air conditioning made learning, patient care, and the setting of impression materials a challenge.
Dean Seymour H. Yale, '45, had a better idea. He secured Federal funds for and was the driving force behind the design of the College's current building at 801 S. Paulina St., which opened in 1972. In 1972, Phase I of the 330,000 square foot College of Dentistry building opened at 801 S. Paulina Street. Phase II opened in 1975. The building was constructed for $22 million, with virtually all funding coming from the Federal government.